Permanent link
E.leaven owner serves up family recipes and New York-style bagels—voted the "best bagel" in Chicago
07/27/2010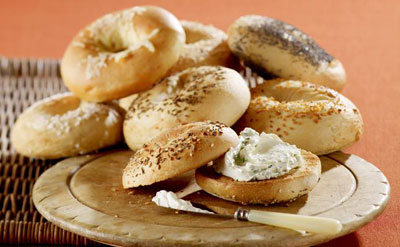 They say the key to a top-notch bagel is in the water. And Eben Dorros agrees with them.
When Dorros opened his downtown Chicago eatery E.leaven a year ago, he installed a special water filtration process for boiling the bagels so they would taste as delicious as the famed New York bagels. "No one knew how to make a bagel outside of New York," says Dorros. "If they can make them there, why can't we make them anywhere else? A lot of people just bake them, but we boil them."
It seems Dorros's hard work has paid off. In June, E.leaven was named as having "hands down, the best bagel" in Chicago by DailyCandy Chicago.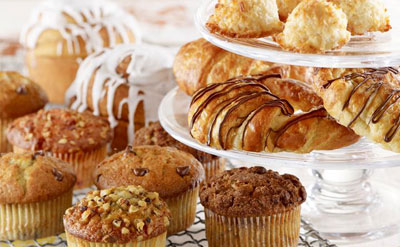 Open for breakfast and lunch, E.leaven makes the majority of their menu items in-house, from scratch, including multigrain, sourdough, challah and rye breads, bagels, pastries, cookies and cakes, soups, corned beef, and roast beef. The restaurant's name combines the first initial in owner Eben's name and the word "leaven," indicating the restaurant's fresh breads. As opposed to a fast food concept, where people are often rushed out the door, Dorros likes to think of his restaurant as an inviting and warm environment where customers can break bread with each other and stay for a while.
Gourmet food has always been in Dorros's blood. In fact, his mom is a chef and his brother went to culinary school. "We grew up cooking family meals. When we'd come home, my mom was always testing something new on the stove. If we didn't like it, that was fine, but we couldn't tell her we didn't like it unless we tried it," Dorros says. As a kid, the future chef would cook pastas and meat sauce, pot roast, meatloaf, French toast, and more. Then, as a student at Colby College in Maine, he would cook for his friends there too, throwing big dinner parties.
The restaurant employs some of his mother's and grandmother's traditional Jewish family recipes, including matzoh ball soup with huge New York-style matzoh balls and potato pancakes too.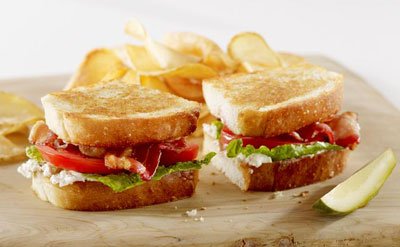 Now living in Bucktown with his wife and two small children, Dorros grew up in a Conservative Jewish Milwaukee home, where his family would make a big deal out of holidays and Shabbat dinners. "Being Jewish is an integral part of who I am," he says. "It teaches the morals and beliefs that I want to pass down to my children. One of the reasons my family is so close is because of Shabbat family dinners and because we went to services together."
In addition to his passion for food, Dorros is also a filmmaker and orchestral pianist. He pursued filmmaking in Manhattan and Los Angeles, including partnering with the United Nations to create a film series as a teaching tool about world conflicts. After time on the coasts, he relocated to Jackson Hole, Wyoming, where he launched a film festival. It was during his time in Wyoming that Dorros gave the restaurant biz a try, opening E.leaven in Jackson Hole. He hopes to open 8-10 restaurants around the country, including others in Chicago.
Dorros is also passionate about creating both inside the kitchen and out. "There's a creative aspect to everything I do, whether it's writing, music, or cooking. There's a therapeutic part to [the creative process], a solitude, whether I'm in the kitchen or playing the piano. For me, that's what drives my soul."