Permanent link
Notes from Uruguay… 
07/28/2009
South America has a rich Jewish history, one that most Jews outside of Latin America know little about. This spring, I traveled to South America to learn about the Jewish communities of two countries, Uruguay and Argentina, on a media mission organized by ORT America.
In addition to making some new Jewish friends in Uruguay and Argentina, I got to eat some world-famous Argentine (kosher) steak, take in a Tango show, and brush up on my college Spanish…Salud!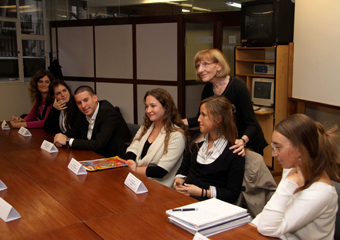 Encounter with a selection of students and graduates representing most areas of study of ORT Uruguay University
David Telias was born in Montevideo, Uruguay, but has traveled back and forth between Israel and Uruguay his whole life. At age 10, he made aliyah with his family for one year. "In those days, I did not understand why we did this, but I never could get it out of my mind," he said. "It was the first time I asked myself what it means to be Jewish." From that day forward, Telias felt a deep connection to Israel. His story is a familiar one within the Jewish community of Uruguay, a person with allegiance to Uruguay, but a strong tie to the Jewish homeland as well.
A Jewish studies and history professor at ORT Uruguay University, Telias acted as our guide through Uruguay.
Uruguay has a Jewish population of about 23,000 Jews, 75% of whom are Ashkenazi, different from most other Latin American countries with a larger Sephardic population, according to Telias. The Jewish community, mainly centered in Uruguay's capitol city of Montevideo, is tight-knit, though not religious, with a strong bond with Israel, which enjoys better relations with Uruguay than with any other country in Latin America, according to Telias.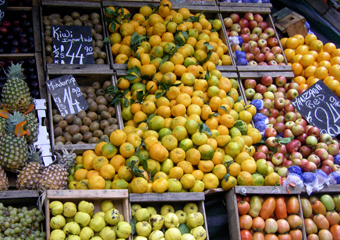 Fresh produce at a Montevideo fruit stand
Our host in Uruguay was ORT Uruguay University, the country's largest private university. In 1942, ORT University was first established as a Jewish trade school for refugees from Europe, according to Charlotte de Grunberg, director general of ORT Uruguay.
In the 1950s, ORT expanded to include non-Jews as well and spent more time specializing in technological areas and providing vocational training to technicians and professionals, according to Grunberg. When she arrived in Uruguay in the late 1970s from her hometown in Belgium, she helped transform the school into a university.
Grunberg didn't want the school to compete with Jewish day schools because she believed in the power of Jewish continuity. At the same time, after the military rule, from 1973-1985, the quality of education at the public university deteriorated, she said, so she hoped Jewish university-bound students would turn to ORT as an option.
"Jewish parents want the best for their children," Grunberg said. "We decided we would start to try to maintain one of the best universities in the country." Then, in 1996, ORT University was officially certified as a private institution. Today, more than 8,000 students, both Jewish and non-Jewish, undergraduate and graduate, attend.
During our visit, we held a roundtable discussion with a group of students and recent graduates. Among them was Martin Kalenberg, who graduated from the School of Communication and now writes for a Uruguayan weekly Jewish magazine. Several years ago, he published a piece on the investigation of the Munich Olympics, where 11 Israeli athletes were killed by terrorists. (The Uruguayan delegation was housed in the same building as the Israeli team.)
"The community is more Zionistic than religious—Israel is most important," Kalenberg said, describing the Uruguayan Jewish community's ties to Israel. "There are secular and religious Jews here but, to everyone, Israel is most important. Israel unites those who are involved and who are not involved in the community."
Maia Hojman is an articulate, young community leader with a passion for the Jewish people. A graduate in public accounting, she was elected to run the 500-member Jewish youth organization, 'Macabi Tzair,' which entails planning educational activities. Five years ago, she traveled on a youth trip to Israel through the Jewish United Fund's overseas arm, the Jewish Agency for Israel.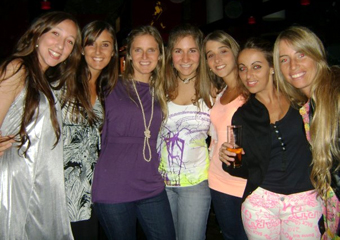 Maia Hojman (third from left), a young leader in the Uruguayan Jewish community, out with the ladies in Montevideo
Hojman, along with the majority of the other young people we spoke to, attends the Yavne Synagogue, located in the Pocitos neighborhood of Montevideo. Hojman lights up when talking about the Orthodox synagogue, led by a 28-year-old rabbi named Tzvi Elon. The rabbi's young age and enthusiasm attracts many young people to the shul. Hojman outlines her Friday night routine each week, not a traditionally religious one, but a Jewishly-centered one nonetheless. "I get in a car and drive to synagogue," she said, "and then to my grandma's for Shabbat dinner."
ORT was founded in Tzarist Russia in 1880 to teach impoverished Jewish Russians skills needed at that time. Today, ORT students are trained in technical skills such as computers, telecommunications, robotics, and nanotechnology at technical schools around the world. ORT America will host a solidarity mission to Argentina and Uruguay from Nov. 9-15.Visit  www.ortamerica.org/missions or call 1-(800)-519-2678, ext. 360.