Permanent link
07/07/2009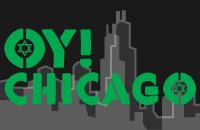 Take a few nice Jewish girls, add in a taste for blogging, 25- plus friends with talents and connections and a missing link in Chicago's young Jewish media scene. Mix it together, add a dash of persistence and a helping from the Jewish United Fund and you get Oy!Chicago! Three awards later, Oy!Chicago has been a recipe for success.
Oy!Chicago  is for the socially conscious, intellectually curious and community-minded Jewish 20-or 30-somethings. It's home to articles, reviews, event listings and ongoing daily discussions about Jewish life for people living Jewishly— or Jew-ishly— in Chicago.
  
This online blog and community for Jews in the Loop is celebrating its one year anniversary with a redesign and big summer plans. Join Oy! at Loft 610, a new Bucktown hot spot on July 23. There'll be live music from The Hue, a progressive rock quartet that leaves the singing to the instruments. $20 admission includes an open bar from 8pm to 10pm, live music from The Hue and a donation to JUF, which provides critical resources that bring food, healthcare, education and emergency assistance to 300,000 Chicagoans of all faith and two million Jews around the world.
"It's been such an exciting first year for Oy!," said Stefanie Pervos, founding editor and blogger-in-chief of Oy!Chicago. "We've really been working hard to start a conversation among Chicago's young Jewish community—a demographic we've found is really looking to get their voices heard."
All this work paid off this year, as Oy!Chicago was the recipient of three awards for best new website: The Public Relations Society of America Chicago Chapter Merit Award, the Publicity Club of Chicago Silver Trumpet Award, and the Simon Rockower Award for Excellence in Jewish Journalism from the American Jewish Press Association.
The site originally launched in April, 2008 and was promoted exclusively through viral marketing (e.g., Facebook and Twitter). Traffic to the site remains strong, with more than 30,000 unique visitors to the site, and 4,000 unique visitors per month.
For information on advertising or to learn more about Oy!Chicago, please visit Oy!Chicago at   www.oychicago.com or email us at   info@oychicago.com . To attend the upcoming Oy!Chicago party in Bucktown,  visit us on facebook .