Permanent link
06/24/2014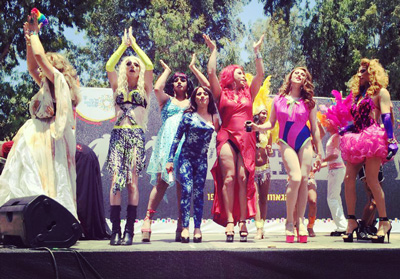 When I say Tel Aviv Pride, I don't just mean one street gets wild – I mean the whole place. The entire city takes a breather to celebrate; people from all over the world, upwards of 25,000, fly in just to be in town for it.
At the start of the festivities, many service agencies and groups came together in Gan Meir to share resources with the community. It was powerful, for example, seeing a group that serves people who are LGBT* and Orthodox. I also got to meet with a group that caters to the ever-increasing population of LGBT* English-speaking olim (people who immigrate to Israel).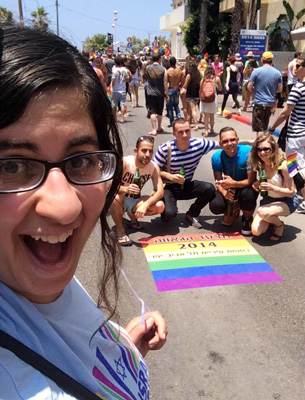 After we started marching I saw a group of older Australian gentleman smiling as they waved their flag; a bear pride flag; a woman from Russia holding the flag for the Straight Alliance for LGBT Equality St. Petersburg Trans* alliance; Israeli flags; Rainbow kippot; and flags for peace. If you want to be at the table to celebrate, you can. Whatever your cause, Pride is a place that welcomes all of it. 
Before the parade, there was a stage performance. As we waited for it to start, a few strangers and I decided to dance like nobody was watching, progressively building a crowd around us. Two of us even started to coordinate moves. My dance partner later told me that he was from Russia. I can't even imagine what his experience is like over there. Could he even wear the same short shorts that he donned that day? Could he wildly dance to Spice Girls performing in drag? I don't know. But what I do know, regardless of his experiences, was Tel Aviv Pride was a day to be ourselves in all our glory.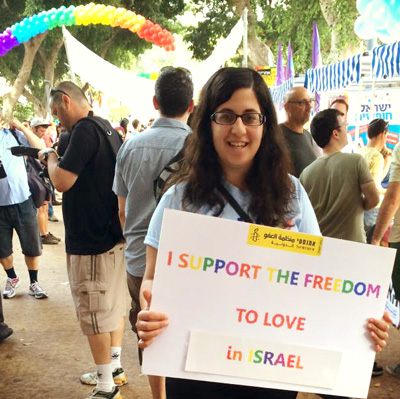 The day ended with a massive concert and party with infinite food trucks, shoppertunities, and activities for all ages. Families even had a designated play area. I really enjoyed that it wasn't one main event like a parade, but a series of opportunities for people of all interests to enjoy themselves. I have gone twice to Tel Aviv Pride, and hope to find opportunities to go again in the future. I invite you all to join me.
Check out my movie: "Tel Aviv Pride through My Eyes by Shaily Hakimian"