Permanent link
06/25/2013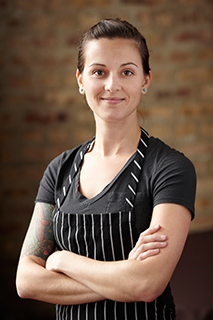 If you're a big fan of the last course (of the meal, that is), then you need to know Amanda Rockman. A former contestant on Top Chef: Just Desserts Season 2, Rockman has become one of Chicago's most-watched pastry chefs.
As such, Rockman made waves a few months ago when she left her long-held post as executive pastry chef of The Bristol and Balena to take a job with Lettuce Entertain You. She made the change hoping that working with a larger company will supply her with many more resources to learn from.
Rockman has already learned from some of the best. A graduate of the Culinary Institute of America, she's worked with the likes of Emily Luchetti, Gale Gand and Celine Plano. (If you're not a dessert foodie, just know that you should be impressed.)
A self-proclaimed sugar-pusher, Rockman says she blames her mother for her career path, since she was such an amazing baker. Sounds like a good Jewish daughter—and A Jew You Should Know.
1. They say you're one of Chicago's top pastry chefs. That's pretty cool! What do you think have been the keys to your success so far in terms of both how you approach your career and how you approach dessert?
I chose who I wanted to work for early on—strong pastry chefs that could teach me about great technique and flavor profiles. You learn their styles and eventually through time develop your own. I was incredibly lucky to have great mentors early on.
2. There are lots of great cities where exciting culinary things are happening, many of them more exotic than Chicago. What is it about this community and restaurant scene that has kept you here?
Chicago is an amazing city—it's also more manageable than most of the larger cities. I've worked in Chicago most of my career. People I used to cook with 10 years ago are owners and chefs. You build a community and closeness that is hard to walk away from. Also, gotta love those winters...
3. For the bakers at home, what are some quick tips, secret ingredient weapons or perhaps local places to get ingredients that you can share to help us up our game?
Amazon.com is the best. Like, the best. You can order any ingredient off of there from your computer while wearing your PJs on the couch. Secret ingredient? Salt.
4. What's your most significant Jewish food memory and do you have a favorite Jewish dessert to make?
Coconut macaroons—can't get enough. My love of coconut started from these little gems. I recall trying to shove as many as I could in my mouth as a kid for fear that they would all be eaten. I try not to do that as an adult.
5. If and when you were to start your own pastry venture, what would be your concept and which of your recipes would be a staple of the menu?
I would love to have a bakery that offered breakfast pastries, miniature cakes, gelato to go, awesome sandwiches—with a kitchen store attached. Basque cake would be a staple, for sure.
6. What do you love most about what you do (and why)?
I love pastries. I just do. I can't image a world without it. Being able to create things for people to consume just brings me joy—nothing is better when someone tells you they really enjoyed your dessert. It's about making people happy.
7. In an alternate universe where you couldn't make amazing desserts, what would you do (and why)?
I would be a writer. I had a blog called Bitter Chick Bakery for a few years but I'm on a break due to my crazy schedule. But I would love to pick it back up.
8. What's your favorite Jewish thing to do (or how do you Jew?) in Chicago (and why)?
My favorite is randomly meeting other Jews in passing in my industry. It's almost like a club. This is how it always goes:
Question: "you part of the tribe?"
Response: "oh yes"
Then you're friends. Love that.