Permanent link
04/27/2010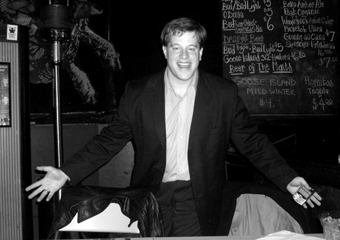 If you enjoyed attending the recent Matzo bash: The Leftovers, you could thank Cary Wolovick.  Cary, the Program Coordinator for the Midwest Region of B'nai B'rith International, not only co-sponsored the event, but originated the idea for the get together—he wanted to raise more dollars for the earthquake victims in Haiti.  Cary is what you'd call a mensch.
Born and raised in Wheeling and a graduate of Northern Illinois University, Cary has always been passionate about Judaism and politics.  At his job with B'nai B'rith, Cary lobbies and advocates for Jewish causes and raises dollars to help people in need.  In his free time, he volunteers in the community and enjoys a good political debate from time-to-time.  An avid sports fan, Cary can often be found at Cubs, Bears and Hawks games.
So, whether you'd enjoy eating dinner with Moses, want to make the world a better place or are a political junkie, Cary Wolovick is a Jew You Should Know:
1. What is your favorite blog or website?
Facebook.  It has to be Facebook.  I use it for almost everything work related at B'nai B'rith.  I use Facebook for just about everything.
2. If time and money were limitless, where would you travel?
Hmm, I thought about that one all weekend and I still can't answer it.  I think I'd go to all of the European Mediterranean countries.  Anywhere that I'm let in—not the ones where my Israeli stamps would be an issue.  And I'd stop in Israel, of course.
3. If a movie was made about your life, who would play you?
Another tough one.  I would say Robin Williams, but he is probably too old.  How about Matt Damon?  We both have blonde hair and good looks.
4. If you could have a meal with any two people, living or dead, famous or not, who would they be?
I would love to have a conversation with Moses to hear about how he did what he did.  And Bobby Kennedy.  I'm a political junkie and he is my hero.  Eating with the two of them would be a fun dinner.  I don't know how much they'd talk together, but it would be a fun story.
5. What's your idea of the perfect day?
I guess I'd say relaxing along the beach and then going to a Cubs or Bears game with some friends. Well, going to any Chicago sporting event, especially the North-side teams would make for a perfect day.
6. What do you love about what you do?
I love the fact that through B'nai B'rith I can help impact people in meaningful ways.  I love educating people about what we do.  We work on so many issues ranging from what's going on at the UN to helping low income seniors.  I help convey important messages and raise money for important causes that my organization supports.  We just did a fundraiser to give teddy bears to kids in the hospital, which was really meaningful and awesome.  We've also been working hard (with Oy!Chicago) to raise money for Haiti.
7. What job would you have had if not the one you have now?
I'd probably be working for one of the political candidates this year.  I'm not giving away my political allegiance, but I'd be working on a campaign.
8. What's your favorite Jewish thing to do in Chicago?
I would say my favorite Jewish thing to do in Chicago is…well, there's a ton.  I try to make the circuit on everything.  But probably I'd say, enjoying a nice Shabbat dinner somewhere in Lakeview or Bucktown or West Rogers Park.  I'd relax, unwind and get to know the people I'm sharing dinner with.  I think that's my favorite.