Permanent link
Job Fair for Jewish young professionals scheduled for April 16
04/01/2010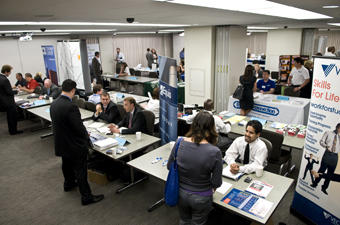 After the success of last year's Job Fair, the Jewish United Fund (JUF) and Jewish Vocational Service (JVS) will host their second annual Job Fair for young Jewish professionals on Friday, April 16. Designed for entry- to mid-level professionals, the job fair will take place at the Standard Club (320 S. Plymouth Court) from 10 a.m. – 2 p.m.
Last year's Job Fair attracted some 300 job seekers and 40 prospective employers. Ron Dulin was one of these attendees. "I spent most of my life as a musician and, in more recent years, was in banking. After being laid off from banking, I went back to school to finish my MBA," said Dulin. "I heard about the Job Fair from a friend and decided to go."
Dulin met with Steven Slivnick, director of Operations for the Government of Israel Economic Mission, who was looking for a new Director of Business Development. "When we started posting the job opening we couldn't find enough qualified applicants," Slivnick said. "We were really struggling to even find [appropriate] places to post the listing. The Job Fair solved our problem. We found several qualified applicants, interviewed quite a few of them and hired Ron."
Gail Silver, vice president and director of human resources for JMB Insurance, was surprised by the number of high-level professionals who attended the first fair.
"We were delighted to meet a candidate who turned out to be one of our eventual hires and is currently in our Producer Development Program," Silver said.
"We absolutely would attend another fair," said Stefanie Pessis Weil, principal at Giving Tree Associates. "There was definitely a high caliber of candidates coming through. We were looking for something very specific with people just out of school who could start a long-term career with us and we found two great additions to our company."
"Three hundred people walked through the door and several of them got jobs, but even more made solid connections and got good information to make it worth everyone's time," said Andy Kirschner, a career services representative with JVS and one of the fair organizers.
In addition to face-to-face contact with hiring firms, job seekers can participate in several career workshops and receive career counseling and resumé help at a Job Search Strategy Resource Table. A Job Fair preparation workshop will also be held from 9-10 a.m. This year's fair promises to be even larger that the first. "We are planning to improve and expand every aspect of [the fair] — it can only get better from here," said Kirschner.
To register online visit  www.yldchicago.org/jobfair . For more information job seekers should contact Ariel Zipkin at (312) 357-4880 or  yld@juf.org and employers interested in participating should contact Lainie Kaufman at (312) 444-2826 or  LainieKaufman@juf.org .