Permanent link
02/25/2010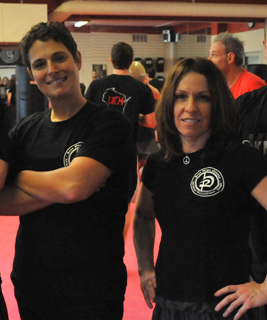 Kim Mor and Sue Garstki of Krav Maga Illinois
Kimberly Mor and Sue Garstki, the owners of Krav Maga Illinois, in Highland Park, are giving new meaning to the phrase "get home safe."
Their school is the first of its kind on the North Shore licensed to teach Krav Maga—the official self-defense system of the Israeli Defense Forces (IDF)—through the official Krav Maga Worldwide training center and the Ministry of Education in Israel. Their doors opened in October of 2009, offering courses in what they call the most efficient and realistic form of self defense, Krav Maga, for adults children and families, as well as boxing, kickboxing and jujitsu, to about 220 members.
"No matter where you go in the world (the Torah) is exactly the same," says Mor. If there is a mistake in the Torah, then that isn't considered a Kosher Torah. That's one of the other things that really pulled me toward Krav Maga was that I knew that it was really from the source, it was the absolute truth when it came to self defense."
This weekend, Feb. 27 and 28, Krav Maga Illinois is hosting Darren Levine, the U.S. chief instructor of Krav Maga. Levine, who trained with Imi Lichtenfeld the creator of Krav Maga, brought the self-defense practice to the U.S.  According to Garstki, the IDF is still using Lichtenfeld's original book of combat, and because they are licensed by Krav Maga Worldwide, Mor and Garstki are teaching the original, traditional Krav Maga. On March 7, Mor and Garstki will host the mayor of Tel Aviv, Ron Huldai, giving their students and members an exclusive chance to see another side of Israel.
Mor—a Highland Park resident and one of the owners of Garden Fresh Markets—describes her first meeting with Garstki as beshert.
"Sue and I met very coincidentally at a SHALVA fundraiser where she was teaching a very small self-defense class," Mor said. "I've always wanted to advocate for women who are victims of domestic violence and I met Sue and I knew I met a diamond because she has the personality to work with a giant or a child—she gets along with everybody."
Combining Garstki's expertise in Krav Maga and Mor's connection to Israel—one of her children lives in Israel and her husband served in the IDF—they decided to open up the school together.
"It was sort of like fate brought us together," Mor said. "We opened October 1 and with a wish and a prayer and all of our experience together we've created a thriving business."
Mor and Garstki say they have members from all walks of life: homemakers, firemen, police officers, children and even some clients that are in their 70s. They say fitness is just a byproduct of Krav Maga, and that it is accessible to everyone, no matter what their athletic ability. It is as much about emotional fitness as it is about physical fitness.
"Many attackers know who to victimize…but once you become empowered in this, you walk a little different, you hold yourself a little different, you're much smarter and you don't become a target as easily as someone else," Mor said. She said most altercations last about 30 seconds, so they train their members accordingly.
"We give everyone the right to defend themselves," Garstki said. "We give them the tools, so it's kind of like life insurance. Without self-defense training, we have no awareness; we have no idea about the things that can happen to us."
They say many of their students come to Krav Maga not only for self-defense, but also to feel a connection to their family in Israel, although they say Krav Maga is not just for Jews. In fact, a majority of their students are not Jewish.
"Everybody feels a connection to the soldiers, whether they are Jewish or not," Mor said. "Soldiers and their fighting spirit, we really teach fighting spirit here."
Garstki, who is certified through Krav Maga worldwide, a Haganah instructor and a second degree black belt in Karate, has been teaching martial arts for 20 years. Though she is not Jewish, she discovered Krav Maga and fell in love with the practice.
"I do not have a Jewish background, which I think says a lot for Krav Maga," she said. "I'm not coming from Israel and I'm not Jewish, yet I believe that the army is so strong and so prepared that I'm willing to practice this every day of my life. I love it. I think that's a testament to how powerful Krav Maga is."
To sign up for this weekend's seminar or for more info, visit the Krav Maga Illinois website.