Permanent link
12/22/2015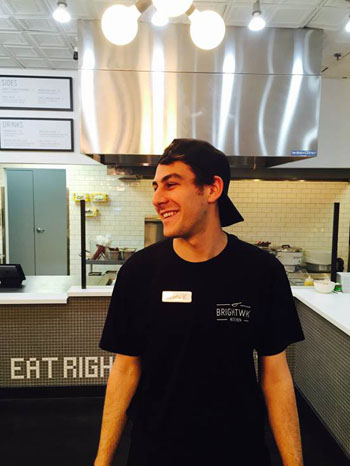 Jeremy Klaben is working to make Chicago brighter (and we could all use more brightness in these dreary winter months). His new restaurant, Brightwok Kitchen, located at 21 E. Adams St., is one of the more unique fast-casual bright spots in the Loop.
Brightwok specializes in flash-wok Asian-inspired stir fry for the health- yet flavor-conscious urban diner. Just picture one of those stir-fry stations you usually find at a food court and take it up several notches with local ingredients, sharp aesthetics and the values-driven approach that has caused the fast-casual restaurant market to explode in recent years. That's Brightwok.
And it's really darn tasty. You can build a bowl with rice, noodles or greens, four veggies, tofu or meat from the Midwest and one of seven homemade sauces. There are also fun sides and a variety of teas and coffee for those looking to make themselves at home.
A native of Dayton, Klaben came to Chicago after graduating from the University of Michigan's Ross School of Business and took an internship with Lettuce Entertain You. There he met his partner, Chef Kolter Livengood, and the two opened Brightwok this past summer.
Klaben has also been engaged in Jewish life everywhere he's been, including as a regional leader with BBYO (KIO), a counselor at Goldman Union Camp Institute and U of M Hillel. So he's a bright guy -- and a Jew You Should Know.
1. What inspired you to go into the fast-casual restaurant business, and why stir fry?
I wanted to be on my feet every day and I wanted to have the opportunity to make people happy. I definitely can appreciate larger and fancier restaurants, but I wanted to create something affordable and casual, which is why I chose to open a fast-casual spot. Besides loving stir fry and growing up having my birthday party at my favorite Chinese restaurant, I saw that my friends and I wanted more vegetables in our diet but we didn't want to give up flavor. Stir fry can be healthy and can be addictively delicious.
2. Why is it important to you to emphasize community values in your restaurant? And what led you to pick "brightness" as a theme?
For most decisions we've made so far, we just go back to our core vision: To create a welcoming place that our guests can feel a part of. It's that simple. Do we just have take-out bowls or do we have actual dining ware? Dining ware, so we can create a more relaxed and special environment, etc. The word "bright" has a lot of wonderful connotations and after days of thinking of our perfect name about two years ago, we fell in love with Brightwok. It fits right in with our community-focused, passionate and positive culture that we work very hard to build at BWK.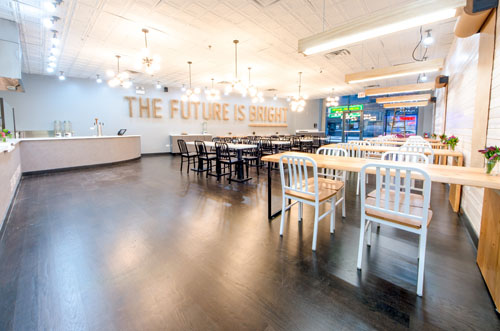 Photo by Toshi Fujimura
3. The physical kitchen itself has a lot of cool features. What was the concept and process behind the interior design and décor?
We wanted to create a welcoming and hip space that fit with what we're all about. It was our goal to have our guests feel welcome when they enter and dine with us, so we ensured we'd have many tables and six-tops for larger groups. At Brightwok, we stand for a few things: high quality food and diverse and passionate people. We knew this years ago, and so when we met Newman, our designer, we focused on a very minimal, clean, and bright look. The colors of the space are just black, grey and white, which allows the food and the people to bring the true energy to the space. Another quick example is the large bench in the middle of the room that was hand-made by our designer. It's a wooden bench that allows guests to face the energy of the kitchen and energy of the dining room. This, once again, goes back to our vision and our core values. We're all about our food and the people.
4. What lessons have you learned so far as a restaurant/business owner?
This is definitely a loaded question. I'm learning big and small things every day. Most importantly, I'm learning how to be a better leader and manager. We have 19 people on our team right now and I'm very impressed by many of them. They care so much about our business and they work incredibly hard to make our restaurant as great as it can be. Learning how to hold everyone accountable to the same expectations is tough and I've definitely been learning from my mistakes here.
5. What advice do you have for entrepreneurs looking to come up with the next great idea in Chicago?
Go learn from others and take your time. There's no rush to build something truly special. My favorite quote is this one from Sergey Brin, co-founder of Google: "We knew that Google was going to get better every single day as we worked on it, and we knew that sooner or later, everyone was going to try it. So our feeling was that the later you tried it, the better it was for us because we'd make a better impression with better technology. So we were never in a big hurry to get you to use it today. Tomorrow would be better."
6. Where are your other favorite places to get food in Chicago?
DMK Burger Bar, Intelligentsia Logan Square, Crisp.
7. What are your future hopes and plans for Brightwok both from the business side and in terms of community involvement?
My plans are to continue to serve healthy and delicious food in a charming and fun way to more and more people. We will build a sustainable organization that doesn't rely on one or two people, but instead upon numerous leaders of our team. In terms of community involvement, we're already starting to ramp up our engagement by hosting events at BWK such as cooking classes and yoga along with going outside of our four walls to be a part of farmers markets and music festivals next summer. I've always been a person to bring people together and I do hope that more and more folks will see Brightwok as a place to hang out, meet friends, do work and let loose.
8. What's your favorite Jewish thing to do (or how do you Jew?) in Chicago?
Besides going to Milt's with some old college friends … I think the coolest thing about Chicago is that it's big enough that there are always more and more Jews to meet but also small enough that I see old Jewish friends all the time at events and at the bars. For an Ohioan, Chicago has brought together Jewish connections I made in BBYO, best friends from Goldman Union Camp Institute and college classmates from the University of Michigan that I'd have Shabbat dinners with at the U of M Hillel.