Permanent link
12/20/2011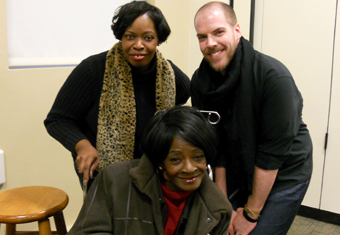 Eric Holt makes his living enhancing and perfecting peoples' appearances. As a makeup artist, he knows that when people like how they look, they can't help but feel uplifted emotionally as well.
Last week, in the spirit of the holiday season, Holt wanted to volunteer his services to women he felt could use an emotional boost-cancer patients. "I really wanted to volunteer my time because I can only imagine just how stressful and depressing the holidays can be for these women in treatment," he said. "As a makeup artist, I also know the transformative properties of makeup and its amazing healing abilities… While it might be just creams, powders, lotions, and potions to some, others can testify that one glance in a mirror, with beautiful makeup on, can do something to the soul that medicine can't."
In partnership with JUF's Tikkun Olum Volunteer (TOV) network, Holt and fellow freelance make-up artist Jacqueline V. Ortega, both Jewish, volunteered at Mount Sinai hospital's event for oncology patients on Dec. 12. The event is run in partnership with American Cancer Society's "Look Good…Feel Better" program, which offers free makeup kits and makeup guides to women undergoing cancer treatment. After the "Look Good… Feel Better" session, where a representative went over the makeup guide with the women, each woman got her own makeover. Holt and Ortega explained make-up techniques while attaching fake eye-lashes, drawing in eyebrows, and splashing on eye shadow.
Lacrisha Alexander was the first woman to get a makeover, and was visibly pleased with her new look. "When I went in, I felt bad because I lost my hair, my eyelashes, and my eyebrows," she said. "I lost everything, but now that I got [the makeover], I feel really good." The makeover gave her a good feeling that she says she hasn't had in a long time, and the event gave her a chance to interact with other people, something she said she enjoys but now rarely experiences. "I stay in the house… I come to chemotherapy and I come back home," she said. "This experience made me want to go out, to travel. I feel young again."
For Lolita Williams, the makeover was a first-time experience with makeup. "I go all-natural, wherever I go, all the time," she said. That may change, now that she has seen what she looks like with makeup on. "I'm looking good," she said. "I am looking better than I did when I came here today. When I went to the bathroom and was washing my hands, I looked up and it was like, wow." Williams was excited to show her new look to her husband, who has never seen her with makeup on.
Of the group, Edith Haskin seemed to react most emotionally to her makeover. She has been battling cancer for more than two years, in addition to overcoming two strokes during that time. Once a woman who put on makeup every day, whether at work or at home, Haskin admitted to feeling disheartened about how she looks. Dealing with cancer has taken a great toll on her emotionally, she said. "Since I was diagnosed, I lost interest in my whole appearance," she said. "I wanted to give up, slip away." The makeover seemed to revive her spirit, and give her new motivation to look after herself. "It made me feel brand-new," she said. "It made me feel good about myself. No matter what we are going through in life, we are still human beings. We are all wonderful and perfectly made, and it just gave me a pick-up."
Yael Brunwasser, director of Volunteer Services at TOV, was responsible for arranging Holt and Ortega's visit to the hospital, seeing an opportunity for JUF agencies to partner in doing a good deed. "When approached by a talented makeup artist who wanted to donate his services, I realized that many of our agency's clients would benefit from his expertise," she said. "It was important for me to illustrate the myriad ways our community can volunteer through TOV. We are the connection point for members of our community to those in need."
For more information about volunteer opportunities through TOV, contact Yael Brunwasser at YaelBrunwasser@juf.org or at (312) 357 -4978. Mount Sinai Hospital, an affiliate agency of the Jewish Federation of Metropolitan Chicago, is an integral part of the broader Sinai Health System.