Permanent link
12/21/2010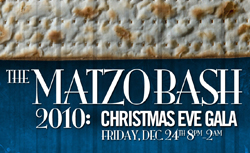 We've all been there before: you want to go out, have a good night, hang with friends, and potentially meet that special someone. So where do you do that? Go to a bar? A friend's party? Sure you end up meeting a bunch of new people, but how can you meet new, Jewish people? One way is through JUF's Young Leadership Division, which holds many great events throughout the year. Another place to meet fellow MOTs is parties hosted by Afterlight Events.
Comprised of different promoters and party planners and members, Afterlight Events is a group that works to create social scenes and parties for Jews in Chicago. But not only do they work to bring Jews together, they also do it for a cause.
"Our goal is to bring Jewish people together in a networking and social atmosphere, while raising money for Jewish nonprofits," the group* said. "Our main goal is to help out non profits and charities who don't have the capacity or the know-how to throw these events."
Afterlight Events throws about three or four parties a year, including the Matzo Bash, one of the biggest parties in Chicago on Christmas Eve.
"At our Matzo Bash [last] year we had about 1,200 people at Enclave," the group said. "And we raised thousands of dollars for charities. We also throw a Valentine's Day party every year. We get sponsored and we raise money and a great portion of the ticket sales get donated to Jewish charities."
While raising money for Jewish charities is the main goal of Afterlight Events, the fact that they help Jews meet other Jews is a huge benefit of the parties they throw.
"Obviously on Christmas Eve our biggest goal is to bring Jewish people together," the group said. "We've had tons of people tell us that they've met their girlfriends or their wives, boyfriends at our parties which is obviously a mitzvah in itself."
"We wanted to make it clear that understanding our heritage and meeting people in our religion is important and it can be done in a fun and social atmosphere. And up to today's standards in Chicago, one of the best cities in the world, it's important to have an opportunity to come together."
However, sometimes throwing parties like the ones Afterlight Events plans can present a challenge.
"The only obstacle is really getting the word out," the group said. "And we do a pretty good job of partnering with different organizations and groups to help them spread the word. A lot of times what we'll do is we'll throw an event for a charity but then have other non-profits sell tickets and they can make money for it too. So we give non-profits a vehicle to raise money in different capacities."
The end goal that Afterlight Events is striving toward is  to partner with all the different Jewish not-for-profits in the city and to help them raise money, while having every Jewish person in the city come together at these events and have a great time.
"We have a lot of different events that we're going to be planning in the next couple of years," the group said. "If anyone has any interest in allowing us to help them raise money just let us know! We'll be happy to work with you creatively."
*Afterlight Events is a group of professionals in the Chicago area, and preferred to keep their names confidential.
"It's not really about us, it's about what we do," the group said. "People are not going to come to a party because certain people are there. People are going to come to a party because we're raising and donating money, and we're having a good time."
It's not too late to get your tickets to The Matzo Bash 2010: Christmas Eve Gala
Enclave, 220 W Chicago Ave on Christmas Eve from 8 p.m.-2 a.m.
Tickets include:
­• ­Complimentary cocktails from 8-10 p.m.
­• Complimentary hors d'oeuvres & treats
­• Complimentary admission to the after party
­• JJ the DJ spinning all night long
Get your tickets through Oy!Chicago here.