Permanent link
11/27/2009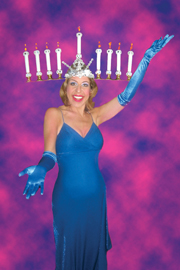 Second City alumna Jackie Hoffman is back in Chicago appearing as "Grandmama" in the new musical  The Addams Family  (currently playing at the Ford Center for the Performing Arts on Randolph), but she's also planned a special Chanukah treat for local fans. On Monday nights, Jackie will debut her new act,  Whining in the Windy City: Holiday Edition , at the Royal George Cabaret on Halsted.
I met Jackie for coffee right before an Addams Family rehearsal on Nov. 5 to learn more about the new show. "About Chicago, I was warned, 'Well, Jewey stuff doesn't fly here.' And I heard that, but despite that, I'm just going to bring people into my world," she said. "I tell about my life and what happens to me and the things people say to me. After every show, people say to me: 'Is that true? Is that true?' It's all true. I'm not that good a writer. It's all true."
"I was fired on a Carson Pirie Scott commercial because I was 'too ethnic looking'; meanwhile Rosie O'Donnell was cast as Golde in Fiddler on the Roof! Broadway's become all about the sellable name, so that's really what it is, but that was just so absurd. But I got a lot of mileage out of it; I made it work for me. Chicago people love down-to-earth, and my act is as down-to-earth as it gets. The truth never fails!"
Performances of The Addams Family run through Sunday, Jan 10. For tickets, visit www.BroadwayInChicago.com. Jackie's four Royal George performances are scheduled for Nov. 30, Dec. 7, Dec. 14, and Dec. 21. For tickets, visit www.ticketmaster.com and enter "Jackie Hoffman" in the Search field. The Ford Theatre Box Office line is (800) 775-2000. The Royal George Box Office line is (312) 988-9000.
To see Jackie play "Calliope" (her acclaimed role in the Broadway hit Xanadu), visit www.YouTube.com and enter "xanadu evil woman" in the Search field.
Coincidentally, Jackie also appears in Making Trouble, which will screen at Spertus Institute of Jewish Studies on Sunday, Dec 13. Making Trouble is a well-intentioned documentary produced by the Jewish Women's Archive. Clips of funny ladies Molly Picon, Fanny Brice, Sophie Tucker, Joan Rivers, Gilda Radner, and Wendy Wasserstein are threaded together through a marathon meal at Katz's Deli featuring Jackie and fellow comedians Judy Gold, Cory Kahaney, and Jessica Kirson. Comments from multiple scholars and other "talking heads" are also folded in. It's an enjoyable film, but I left hungry—too many appetizers and side dishes, but no main course. For tickets, visit www.spertus.edu or call (312) 322-1700.