Permanent link
11/11/2008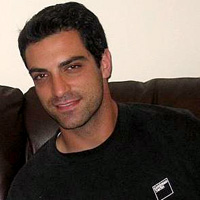 Oren, excited about the Big Event 

When Lincoln Park dweller Oren Dekalo isn't at work as the 2009 Vice President of the YLD campaign—which isn't often—the Glencoe native can be found working as a diamond wholesaler.

So, if you don't have time to read actual books, look forward to lunches on the 6th floor of the JUF or like shiny things, Oren Dekalo is a Jew You Should Know!

1. What did you want to be when you grew up?
I wanted to be an archaeologist like Indiana Jones, or a professional soccer player (my Bar Mitzvah was a couple weeks after the '94 World Cup, and that was the theme for my party).

2. What do you love about what you do today?
Hearing people's comments when they find out what I do.

3. What are you reading?
A lot of YLD emails about "The Big Event" featuring Matisyahu on December 13.  Books ... not so much right now.

4. What's your favorite place to eat in Chicago?
The JUF Conference Room - the food is half the fun of being on the Board!

5. If money and logistical reality played no part, what would you invent?
A machine that would produce money--specifically for the YLD Campaign--and a shield to protect Israel from its hostile neighbors.

6. Would you rather have the ability to fly or the ability to be invisible?
Definitely fly so that I could go to Israel for free - and avoid Chicago traffic, of course.

7. If I scrolled through your iPod, what guilty pleasure song would I find?
None since I don't have one.

8. What's your favorite Jewish thing to do in Chicago—in other words, how do you Jew?
I enjoy planning, and attending, YLD events.  Right now, the YLD Board's focus is on making "The Big Event" featuring Matisyahu a tremendous success - both in terms of the overall quality and the number of people who will be there to experience it.