Permanent link
10/20/2015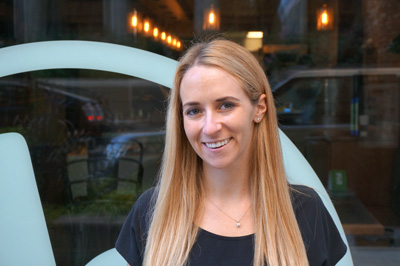 The lunch salad is a staple of so many people's work weeks, and now, downtown Chicago commuters have a lunch salad they truly "Be Leaf" in.
Be Leaf, which opened this summer at 29 N. Wacker Drive, brings Loop leaf-eaters a fresh, locally sourced and environmentally conscious option among the city's myriad salad bar-style lunch stops. And the woman behind it all is Becky Marks, a definite Jew You Should Know.
For three and a half years, Marks worked at the Jewish United Fund in a fundraising capacity until she was ready to take her analytical and relationship-building skills with her on her own adventure. Following in the footsteps of her brother, creator of Chicago's Emporium arcade bars, Marks wanted to open her own hospitality business, and saw a need in the Midwest for a salad restaurant emphasizing fresh, local produce.
Working alongside consulting Chef Martin Cabrera (Spago, Charlie Trotters, Naansense), Marks built a chef-designed menu of salads, bowls and wraps focused on the ingredients and emphasizing seasonal offerings. Diners can order a designed salad or build their own from an extensive ingredient list and top it off with house-made dressings like avocado cucumber cilantro and ginger lemon sriracha.
Marks also takes great pride in Be Leaf's environmental sustainability efforts. The restaurant composts all its food waste and uses only compostable disposables, in addition to sourcing locally to reduce the carbon footprint of their products. Tasty - and menschy!
1. What inspired you to go into food service? Why salads?
I felt that Chicago had a real market for this concept. People want to eat healthy and also want to be able to have access to fresh produce. These concepts are on the east and west coasts and we do not have them in Chicago, or the Midwest really. I wanted to open my own business and felt this was something that there was really a market for.I love working with people and I love providing where I feel there is a need and this blended the two together.
2. What have you done to make Be Leaf stand out from the many places offering salads or custom salads?
We really focus on minimizing our environmental impact. We compost all of our food waste and only use compostable disposables. We also try to source our produce locally when possible. We focus on getting the freshest produce possible and get daily deliveries and I believe (beleaf) that is evident in the taste! I think the atmosphere is a fun place to be and is different than the other options in the loop. It is playful and also a nice break from the hectic work day with the colors and greenery. My staff is incredibly upbeat and really excited to make your day better!
3. How is Be Leaf representative of your personal values? Which parts of the business are you most passionate about?
I am very passionate about the sustainability. Restaurants can be incredibly draining on the environment and I am trying to do it as responsibly as possible. I also love being able to help educate my customers and staff on sustainability, local sourcing and the carbon footprints of products. I am also very passionate about providing employment for so many people and hope to be able to only grow those opportunities as the business grows. I love my employees and love the input they provide and the collaborative environment we have created.
4. What lessons have you learned so far as a restaurant/business owner?
So many! Every day I am learning, it is so much work and so rewarding. I am learning how to manage employees, how to manage expenses, how to work with customers … I am learning marketing, accounting, delegating ... I could go on forever. It has just been an incredible learning experience. I think the biggest lesson I have learned is to listen to everyone's advice and know that I do not need to take it, but it is important to always listen.
5. What's your favorite salad to make at home or for others when you're not at work? What tips do you have for others to up their salad game?
To be honest I do not make salad that much at home - I have a ton of allergies that limit what I can eat. My advice to up ones salad game would be to eat things when they are in season. It is less expensive and tastier! A quick Google search can let you know what fruits and veggies are in season when. I also would encourage people to make their own dressings! It can be super simple to whip up a fun vinaigrette and it tastes so much better than the store-bought ones.
6. If all goes well, what are your future hopes and plans for Be Leaf and for yourself in the industry?
I hope to expand Be Leaf throughout the Chicago area and also throughout the Midwest. I can see the concept doing really well in college towns and would love to bring healthy and sustainable eating to different parts of the Midwest where it is not as accessible.
7. In what ways, if any, have you been able to apply the skills you developed as a Jewish professional to your work?
My work as a Jewish professional has been invaluable in dealing with customers. Fundraising/working with donors taught me so much about customer service and how to work with people and that is a skill that can be translated to so many different things, especially the restaurant industry. An angry donor isn't that different than an angry diner …
8. What's your favorite Jewish thing to do (or how do you Jew?) in Chicago?
My favorite Jewish thing to do is to have Shabbat dinner with my friends. Lately, I have been in charge of bringing the salad …