Permanent link
Spertus selects 'A Day of Small Beginnings' for community-wide exploration of Jewish faith and heritage across generations 
10/25/2011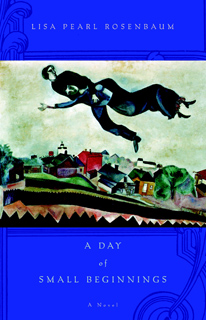 "How do you know who you are if you don't know where you come from?" This question is posed by author Lisa Pearl Rosenbaum in A Day of Small Beginnings, the novel selected by Spertus, Chicago's center for Jewish learning and culture, for its new One Book | One Community initiative. 
Starting Sunday, November 13—just in time for Jewish Book Month—Spertus will present a series of programs, all related to A Day of Small Beginnings, in locations across the Chicago region. On Sunday, December 4, author Lisa Pearl Rosenbaum will make two area appearances, first at Spertus at 2 pm and then at the Wilmette Public Library at 7 pm.
Spertus Director of Programming Beth Schenker hopes that individual readers and book groups across the Chicago area's diverse Jewish community will read A Day of Small Beginnings andtake advantage of the lectures, activities, and resources Spertus will offer to explore the book's themes. "We selected A Day of Small Beginnings because the novel addresses ideas about Jewish faith on both a very personal level and through the wide lens of political and social change. It examines the loss of Jewish family history and cultural heritage against the backdrop of increased freedom and opportunities in the secular world," Schenker said.
Acknowledging the community-building potential of this project, JUF News is proud to be the media sponsor for One Book | One Community. "JUF News is thrilled to partner with Spertus on One Book | One Community. A Day of Small Beginnings has something for everyone and will resonate with different generations in the Chicago-area Jewish community," said Cindy Sher, editor of JUF News and Oy!Chicago blogger. "One Book | One Community is a wonderful way to get our diverse community reading together and discussing with each other Jewish literature and issues of Jewish identity."
A Day of Small Beginnings was selected with recommendations from Spertus staff and local Jewish librarians. These early readers noted the book's mystical and sometimes surprising plot lines, the intertwined stories of characters across generations and circumstances, and the vivid portrait the book paints of what life was like for many eastern European Jews in the early years of the 20th century. 
A Day of Small Beginnings starts its story in a small town in rural Poland, with the appearance of a lively 83-year-old ghost named Friedl Alterman. It tracks three generations of an American Jewish family trying to unravel the mysteries of their past. Published to acclaim in 2006 by Little, Brown and Company, it is the debut novel by Lisa Pearl Rosenbaum.
Many people in the Chicago area are familiar with a community coming together to read and discuss a common book through the city's One Book, One Chicago program. The concept was originated in 1998 by the Washington Center for the Book. Today there are citywide, statewide, and even country-wide reading programs all over the world. Spertus brings this concept to the Jewish community of Chicago with a nod to Nobel prize-winning writer Isaac Bashevis Singer, who said, "I am not ashamed to admit that I belong to those who fantasize that literature is capable of bringing new horizons and new perspectives."
Spertus is preparing a free reader resource guide perfect for book groups or readers' own investigation. The guide will include discussion questions, a bibliography keyed to major themes in the book, related web resources, and more.
Program schedule for One Book, One Chicago 
Programs presented by Spertus in partnership with The Book Stall at Chestnut Court.
Each program is $18 ($10 for Spertus members and $8 for students).
As an incentive for book groups to attend together, tickets are $10 per person for groups of ten or more.
Advance tickets are strongly recommended.
Tickets can be purchased online at spertus.edu or by phone at (312) 322-1773.
A Day of Small Beginnings will be for sale at all events. 
Kick-off event—Getting Inside the Story 
Sunday, November 13 at 2 pm at Spertus 
Two treasured forms of Jewish expression—storytelling and papercutting—play parts in A Day of Small Beginnings. Participants will be able to delve into these traditions with two award-winning experts—storyteller Susan Stone and papercut artist Melanie Dankowicz—at this kick-off event. A post-program reception will give attendees an opportunity to purchase the book and meet other readers.
Susan Stone is a professional storyteller who travels around the country telling stories at festivals, museums, schools, and synagogues. Jewish folktales and mystical stories feed her imagination and her neshama (soul) and it is her mission to have these stories nourish yours, too.
Melanie Dankowicz is an artist whose intricate papercut works carry on a tradition that has been a meaningful part of Jewish expression for centuries. She creates dreidels, mezuzot, and ketubot of paper, and also renders papercut designs in stainless steel. 
Lecture and discussion—Revolution and Tradition in Modern Jewish Literature 
Sunday, November 20 at 2 pm at The Book Stall at Chestnut Court, 811 Elm Street, Winnetka 
Modern Jewish literature first emerged as part of a radical rejection of traditional 19th-century Jewish life. As in A Day of Small Beginnings, however, contemporary Jewish literature often draws on the history and language of the Jewish past. Dr. Todd Hasak-Lowy, an adjunct member of the Spertus faculty, will explore this tension in today's American Jewish writing. 
Dr. Todd Hasak-Lowy earned his PhD in Comparative Literature at the University of California, Berkeley. He is the author of a short story collection, a novel, and an academic study of modern Hebrew fiction. This fall, he is a visiting professor of Israel Studies at University of Illinois-Chicago.
Lecture and dance demonstration—What Makes a Jewish Dance? 
Thursday, December 1 at 6:30 pm at Spertus  
Dancer and choreographerSteven Lee Weintraubwill draw from his own experience and the history of Jewish dance, to consider—like the character Ellen in A Day of Small Beginnings—what makes a Jewish dance.
Steven Lee Weintraub is a teacher of traditional Yiddish dance and the principal dance leader for Chicago's Maxwell Street Klezmer Band. He has taught at festivals in Krakow, Furth, Weimar, Paris, and London, served as assistant director of New York City's Israeli Folk Dance Festival, and choreographed theater productions around the U.S. 
Author event—Lisa Pearl Rosenbaum 
Sunday, December 4 
Author Lisa Pearl Rosenbaum comes to Spertus (at 2 pm) and to the Wilmette Public Library (at 7 pm) to discuss A Day of Small Beginnings. The Wilmette Library is located at 1242 Wilmette Avenue. 
Lisa Pearl Rosenbaum was born and raised in New York, where she studied modern dance and choreography. The seed of A Day of Small Beginnings was planted when she traveled alone to Europe at the age of 18. Her shock at seeing a Paris street lined with plaques commemorating the World War II destruction of the area's Jewish community grew into a lifelong interest in Jewish history and theology. She studied religion and philosophy at New York University and international relations at the Hebrew University in Jerusalem, and then worked at the Israeli Consulate in Los Angeles before returning to school to study law. As a lawyer, she litigated constitutional cases related to church-state issues in California.
She left law to produce cultural programs for a cable television network. After her first child was born, she took a creative writing class and found that her sensibilities about writing fiction felt much like creating dance—a choreography with words.
In the mid-1990s Rosenbaum traveled to Poland with her in-laws, who are Holocaust survivors. Their experiences, particularly in the family's hometown, inspired and informed much of A Day of Small Beginnings. Rosenbaum lives in Los Angeles with her husband Walt Lipsman. They have two daughters, Ariana and Maya. She is a past president of the Santa Monica Synagogue, executive producer of the Genesis Arts Council, and has written work produced by the Jewish Women's Theatre in Los Angeles.
Spertus is located at 610 S. Michigan Avenue. Discount parking is $10 with Spertus validation at the Essex Inn, two blocks south of Spertus.
Raffle and resources 
A special section of the Spertus website—accessible at Spertus.edu/OneBook—will link to program information (including additional events as they are confirmed), a downloadable version of the reader resource guide, and a drawing for a beautiful handcut paper dreidel by artist Melanie Dankowicz or one of several gift certificates to the Spertus Shop. 
About Jewish Book Month  
Jewish Book Month is an annual event on the American Jewish calendar dedicated to the celebration of Jewish books. It is observed during the month preceding Hanukkah, thus the exact date changes each year. For 2011, Jewish Book Month falls November 21 through December 21, with events celebrating Jewish literature occurring across North America throughout November and December.