Permanent link
10/26/2010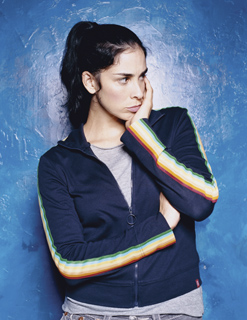 Okay, you've got to be a bit curious to hear what shocking things—and you know they'll be shocking—will come out of comedian Sarah Silverman's mouth at JUF's Young Leadership Division's (YLD) third annual Big Event Nov. 6.
Silverman, usually clad in her trademark hoodie/sweat pants combo, is no stranger to controversy. A stand-up comedian, writer, and film and TV star, Silverman wears her identity as a Jewish woman on her sleeve. Her social commentary-brand of humor never shies away from mocking her fellow members of the tribe and hitting taboo subjects like religion (her own and others too), bigotry, racism, sexism, and other touchy "isms" in her act.
YLD's third annual Big Event, on Saturday, Nov. 6, at 8pm, will feature an evening of stand-up comedy with Silverman. The event, to be held at the Sheraton Chicago, will include dessert reception, open bar, after party, and late night snacks.
Last year, YLD's Big Event, which featured "Saturday Night Live" star Andy Samberg, drew more than 1,000 people, making it the single largest YLD event in history. This time around, YLD hopes to draw an even larger crowd—both to entertain and to spread the word about the important work of the Jewish United Fund/Jewish Federation of Metropolitan Chicago.
"We're excited to spend an evening with so many of our YLD supporters," said Justin Brown, YLD's 2011 Campaign vice president. "We hope to break last year's attendance and we're excited to introduce new people to YLD as well. People are really excited about Silverman's unique brand of stand-up comedy. We're getting really good buzz about it."
Among Silverman's credits are the 2005 feature film of her one woman show "Sarah Silverman: Jesus is Magic" and the Comedy Central show "The Sarah Silverman Program."
The show, which ran from 2007-2010, chronicled the adventures of a fictionalized version of Silverman, her sister Laura (played by her real sister), and their friends. Silverman also appeared on such shows as "Saturday Night Live," "Seinfeld," and "The Larry Sanders Show."
Silverman's comedy got political during the 2008 presidential campaign. The comedian teamed up on a hilarious grassroots project called "The Great Schlep," to urge Jewish grandchildren to travel to Florida to convince their grandparents to vote for Barack Obama.
This spring, Silverman released her autobiography "The Bedwetter: Stories of Courage, Redemption, and Pee" (HarperCollins Publishers), which offers a mix of the usual Silverman humor with more sobering subjects, including her lifelong battle with clinical depression and the accidental death of her baby brother. As the title of the book hints, she writes a lot about her struggle with bedwetting from the time she was a little girl well into her teens.
The comedian, the youngest of four daughters, was raised in New Hampshire in a non-observant Jewish household. She pokes fun in her act at her loving parents who divorced (her mother was George McGovern's personal campaign photographer and her father, a social worker by training, ran the discount clothing store "Crazy Sophie's Outlet.") One of Silverman's sisters is a rabbi living on a kibbutz in Israel, married with five children.
"I don't remember if I mentioned this to you before, but I am Jewish," Silverman writes 20 pages from the end of her book, a joke because she's so famously branded as a Jewish comedian. She says "she accepts the responsibilities, limitations, and consequences" that come with being Jewish. But, at the same time, she jokes "she has no background of participation in Jewish traditions other than nausea."
Silverman covers taboo topics in her cool, somewhat detached, little-girl-voice persona. But really, she figures, her humor allows her to tackle the "ugliest, most terrifying things in the world," she writes in her book.
"Adopting a persona at once ignorant and arrogant allowed me to say what I didn't mean, even preach the opposite of what I believed," she writes. "For me, it was a funny way to be sincere. And like the jokes in a roast, the hope is that the genuine sentiment—maybe even a goodness underneath the joke (however brutal) transcends."
Register online . Tickets to YLD's Big Event cost $80 per person (not tax-deductible) and require a gift to the 2011 JUF Annual Campaign. The minimum requirement is a match or increase to your previous JUF gift. If you have not given to JUF in the past, you are required to make a gift. Attendance to the event signifies your consent. For more information, contact the YLD office at (312) 357-4880 or  YLD@JUF.org .
This event is for ages 21 and over only—Please keep in mind that this event is R-rated and JUF has no control over the content of Sarah Silverman's program.