Permanent link
Alison Levine makes climbing mountains, and the corporate ladder, look easy
10/03/2012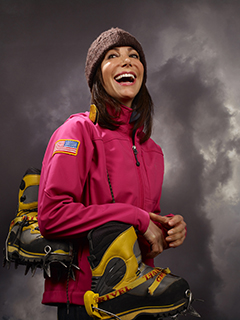 Alison Levine has made it to the top, both literally and figuratively.
Born with a life-threatening heart condition, Wolf-Parkinson-White Syndrome, that prevented her from driving a car or walking up a flight of stairs, today Levine climbs mountains and the corporate ladder.
Thirteen years after her initial diagnosis, Levine had surgery that changed her life. As one of the most experienced female mountaineers in the country, she has climbed peaks on every continent. In 2010, with her successful expedition to the top of Mount Everest, she became one of the few climbers to complete the Adventure Grand Slam—claiming the Seven Summits and skiing to both Poles.
Levine's personal career has encompassed healthcare, technology, and finance. After earning her MBA from Duke University, she worked for Goldman Sachs, and left in 2003 to serve as deputy finance director for Arnold Schwarzenegger in his successful bid to become Governor of California.
She currently serves as an adjunct professor at the United States Military Academy at West Point, has her own consulting firm, Daredevil Strategies, and in 2005 founded the Climb High Foundation.
Levine will visit Chicago Thursday, Oct. 11, for JUF's Women's Division Lion Luncheon at the Standard Club.
In advance of her visit to Chicago, Oy!Chicago chatted with Levine about climbing mountains, Judaism, and what's next for her:
 Oy!Chicago: How does your Judaism influence your life, both personally and professionally? 
Allison Levine: In all areas of my life I work hard for the things that I want and I stand up against the things I believe are wrong. Not speaking out against things you know are wrong is the same as advocating those things. I also know that each of us has the responsibility to leave this world a better place than it was when we got here. Those are things ways Judaism has influenced my life.
Is there one thing you can pinpoint as your greatest accomplishment? Your coolest experience? 
YES! Coolest experience would be training the first group of Ugandan women to work as trekking guides in the Rwenzori Mountains. There had been a longstanding cultural belief that it was taboo for local women to go to the mountains so prior to this climb the local women had never been permitted to climb. Working in the mountains as trekking guides or porters is the main source of income for the men in this region, and because women were not allowed in the mountains they had no way to earn money. After much negotiating with the head of the local village, the head of the park service and the head of the trekking service I convinced them to allow the local women to climb for the first time. Breaking down this barrier was a huge step forward for women's rights in this area.
After our climb I returned six months later and founded an organization called the Climb High Foundation which trains jobless women to work as trekking guides and porters in the Rwenzori Mountains. This work allows them to earn a sustainable living wage and to improve their quality of life. They have made great strides in gaining equality as a result. This is by far my greatest accomplishment and is a legacy I am really proud of.
What is next for you? 
I am currently working on my first book which will be published in late 2013. It feels like the toughest mountain I have ever climbed as this is the first time I have tried to tackle writing anything beyond a humorous blog for an expedition. The book will be about the leadership lessons I learned while climbing the world's highest peaks and how these lessons apply to the business world and beyond.
What skills from the business world also apply to your expeditions, and vice versa? 
The ability to act quickly and make critical decisions is important in both arenas. Sometimes you have to toss well laid-out plans out the window and take action based on the situation at the time rather than on the plan. Plans are outdated as soon as they are finished in environments that change very rapidly. Another key to success that applies to both business and the mountains would be empowering everyone to think and act like leaders regardless of title or tenure or experience level, because everyone needs to realize that they have a responsibility to the people on either side off them. And I think that the number one lesson I have learned in the mountains and in business (which I think also applies to life in general) is that it is okay to feel scared or intimidated as long as you take action, because complacency will kill you. You have to be able to act/react as things around are shifting and changing.
What advice do you have for others who dream of climbing mountains?
Don't let anyone discourage you from pursuing your dreams. Surround yourself with people who are more skilled/stronger than you are—you'll learn faster and they will push yourself harder.
Do you have any Chicago connections? 
Matter of fact, yes! I am currently working with an outdoor apparel company called HUM which is based in Chicago and the founders are Danny and Aaron Feuerstein. Aaron Feuerstein was the CEO of Malden Mills (which made Polartec fleece). His factory burned down in 1995 and he used much of the insurance money to pay all of his factory workers wages and benefits for six months while the facility was being re-built. He spent millions taking care of his people. If that isn't a fabulous example of the generosity and selflessness of Judaism I don't know what is.
For more information about the Lion Luncheon, visit www.juf.org/women.