Permanent link
10/21/2014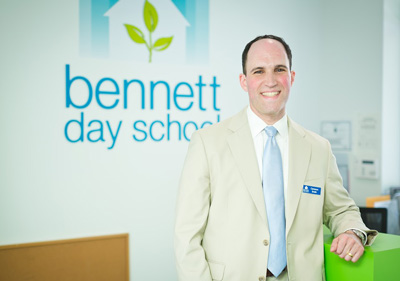 Photo credit: TK Photography
When he was named to Oy!Chicago and JUF's Young Leadership Division's inaugural 36 under 36 list, Cameron Smith had only dreamed of what the next great Chicago day school would look like. Two years later, the school has not only opened its doors, but quickly become a bustling learning environment.
Bennett Day School is a pre-kindergarten through eighth grade independent day school rooted in the Reggio Emilia approach, a collaborative, environment-based take on education that incorporates students' individual curiosities and sees self-direction as integral to the learning process. And Smith, its co-founder and CEO, has quickly become one of Chicago's leaders in progressive education.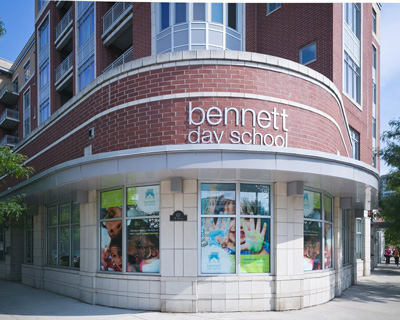 Photo credit: TK Photography
Smith's journey from working for a private equity firm to heading Bennett Day School is an unusual one, but neither is it entirely surprising. When his oldest son was born four years ago, Smith – whose mother and sister are both elementary school teachers – began to think about where his children would go to school. Meanwhile, at his day job at CHS Capital, Smith was charged with investing in the education and health care sectors, and as such, learned a lot about education practices. One day, he came across a fact that resonated with him: having a portfolio of a child's work could really make a difference when applying to colleges and universities. So while researching educational approaches and philosophies full-time, he looked for styles that included a portfolio as a product of students' learning. That's when he discovered Reggio Emilia, and after more intensive research, he decided a school featuring this approach was what he wanted for his children, and what Chicago needed.  
"There are more great schools badly needed downtown for people to live and work close to the heart of the city and not feel like they need to move," Smith said.
Smith also said Reggio Emilia gels with his Jewish values. In fact, some local Jewish pre-schools are dedicated to this approach.
"Learning from your surroundings, being in a collaborative community, this really resonates, I've found, with Jewish values and our upbringing," he said. "There have been a number of families that have come to [Bennett Day School] and really appreciated the transition from their Jewish pre-school."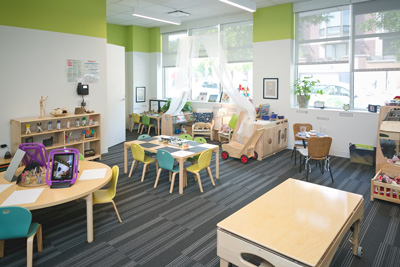 Photo credit: TK Photography
Opened in August at 657 W. Fulton St., Bennett is the first independent school in Chicago devoted to implementing this approach beyond early childhood. Although the 34 students currently enrolled are all between two and five years old, a new grade will open each year, and eventually junior kindergarten through eighth grade students will move to the school's future flagship campus at 955 W. Grand Ave.
Looking back on what the school has accomplished so far, Smith said it's hard to put into words.
"We've gone from a small team working on a school to being a community," he said. "It's just a warm and wonderful, gratifying feeling."
Smith credits the parents as well, saying the founding families have been tremendously active in the school and that parent excitement, response and feedback so far has been more than he could've hoped for.
As one of these parents himself, Smith said he has also been amazed by the projects the students have dreamed up. One class wanted another table in their classroom, so they flipped over the existing one, studied it and built their own weight-bearing table from cardboard and paper towel rolls. Another class found a dragonfly on a trip to the nearby park and were curious where it lived, which evolved into learning about lakes and even building one in their classroom.
"I think what's been most emotional for me is seeing my son Hunter and the other students together doing things I never could've imagined four-year-olds could do," he said. "They're just so much more capable than we give them credit for."
The name Bennett comes from Hunter's middle name, given to him for two of his great-grandmothers who were self-made women from immigrant families who despite not receiving a college education, helped start family businesses and put their siblings through school.
"They really embodied grit, perseverance and creativity, the traits that we're embodying in our kids and cultivating," Smith said.
Also since being named Double Chai in the Chi, Smith and his wife, Erica, welcomed their second son, Leo. They belong to Anshe Emet Synagogue and live in Lincoln Park, where Cameron and Hunter take the Halsted bus together to school each day.