Permanent link
01/28/2014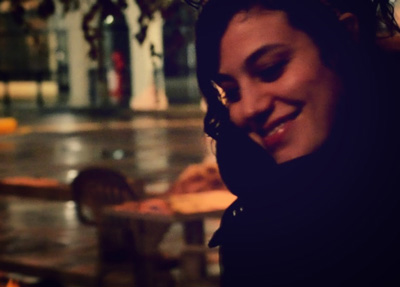 Photo credit: David Safran
You can talk about sex – and images of women in the media and throughout history – with Emma Morris. Although she works as a library assistant at the University of Chicago by day, Morris is the managing editor of Jewrotica.org, an online community, resource, and forum for Jewish sexual expression through articles, essays, fiction, poetry and more.
But not one thing (or two things) defines who she is. A native of East Lansing, Mich., Morris received her degree in English Literature from the University of Michigan, and after considering a PhD in film studies, got her master's in library and information science. She volunteers at the Leather Archives and Museum and has written horoscopes for Jewcy.com, vegetarian restaurant reviews for Examiner.com and an unpublished novella (you can read part of here) that she describes as a "supernatural noir/detective/murder mystery/love story that revolves around literature, ideas and libraries."
With a cornucopia of interests and talents, it wasn't hard to determine that Emma Morris is a Jew You Should Know. 
1. You seem to really like old things. What draws you to archives and artifacts and what excites you most about working with them?
What draws me to books, heirlooms, antiques and other objects is their history. It excites me to imagine who owned, touched, wore, or meditated on them before me. Sometimes you can actually feel energy radiating from a book or piece of jewelry. Even just the materiality itself, the decomposition of film, the wear and creases in paper and notes in the margins, the evidence of its connection to human touch and care: each object has its own life stored within it. In some ways, I think of objects as conduits, a way of communing with spirits. 
2. What subjects or issues interest you most in the areas of gender studies and sexuality? How has this influenced your career path?
A year ago, I joined forces with Jewrotica. Learning about how Judaism has shaped many of our writers' and readers' lives has been fascinating; it has both taught me about Jewish tradition and revitalized my interest in how people understand – and celebrate – themselves in the context of gender and sexuality.
What interested me most while pursuing my bachelor's degree was the way that women are depicted in literature, film, mythology and popular culture – all of which have been largely produced by men. I perceived these works to be projecting and appropriating and perpetuating images of ideal femininity that tend to bear only a passing resemblance to actual women. At the same time, storytelling, writing, or artistic creation can be a way to sublimate erotic impulses, to exorcise demons. So there's an unconscious sex game between creators and readers/viewers in which what we experience informs our identities and sexualities.
3. In your mind, are Jews mostly afraid to discuss sex in a religious context? What role does Jewrotica play in this discussion?
In my experience, when Jews discuss sex in a religious context, they are careful to stay within prescribed bounds. In more religious circles, those bounds are of course the normative legal strictures of halachah (Jewish religious law). Religious discourse on sex and halachah focuses on modesty, marriage, and the ways that sex relates to the divine. In some cases, pleasure is validated, but religious Jews tend to strongly resist modes of thought that are independent of "halachically"-ordained sexual categories and norms. Secular Jews, on the other hand, often use irony and humor to resist seriously confronting both religion and sexuality.
Jewrotica is educational and all-embracing. Our role in this discussion is to provide an outlet for Jewish sexual expression, a forum for meaningful learning and conversation, and an opportunity for Jewish engagement …the goal is to move beyond fear, shame, and guilt through learning and connecting while embracing a positive attitude toward love, romance, sexuality and eroticism. 
4. Astrology has its own kind of spirituality. How does that mesh with your Judaism?
Astrology meshes with my Judaism by bringing me closer to the past. It also connects me to family members, friends and historical figures toward whom I feel a particularly strong bond. Astrological affinities, such as sharing a sun sign, cut across time and space and even religion. I've always been drawn to mystical, enigmatic and intuitive forces. When I discovered last summer that I share a birthday with Sydney Omarr, Jewish astrologer to the stars, I felt that I was somehow fated to further pursue my interest in astrology.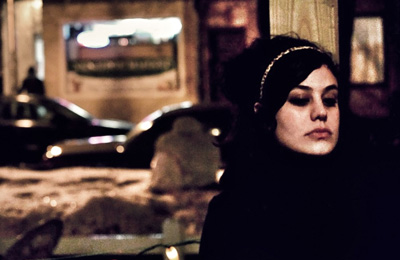 5. If you could get your hands on and study any original Jewish document or artifact, what would it be?
It would be great to get my hands on some of Houdini's personal collection of magic or illusion books, original photographs, letters, maybe a straitjacket! A rabbi's son, Houdini's myth influences, transfixes, and seduces people to this day. What I find so exciting about Houdini is that he's this towering, magnetic, nearly supernatural person who captivates people nearly 100 years after his death. There's a whole legend and industry built up around him: movies and graphic novels are made about his life and museums are dedicated to his work. The Secret Life of Houdini: The making of America's first superhero by Larry Sloman and William Kalush is an outstanding biography that I would recommend to any Houdini-lover. 
6. What are your favorite vegetarian restaurants in Chicago? Any hidden vegetarian gems?
My new favorite Chicago vegetarian restaurant is Uru Swati. It is a recent addition to Devon's strip of Indian restaurants, and has the most amazing, unique dishes. Other not-so-hidden favorites are Dharma Garden, Chicago Diner and Native Foods. 
7. What do you love most about having so many diverse interests and talents, and what would you say ties them all together for you?
In many ways, writing ties all of my interests together: trying to make sense out of things, distilling and connecting meaning, exploring unknown forces and the weight of history, organizing and preserving artifacts or ideas, following the mind in motion, which sparks and fuses and forms into words that can take on a life of their own. 
8. How do you Jew in Chicago?
Séance Seder! This isn't a real thing, as far as I know, but it's been a long-standing fantasy of mine. I'd invite Sigmund Freud, Peter Falk, Saul Bellow, Isaac Bashevis Singer, Houdini, Bea Arthur, Estelle Getty, Lou Reed, Edward G. Robinson, Walter Matthau, Maurice Sendak, Theda Bara, my grandfather and other ancestors I never got to know ... the possibilities are endless!