Permanent link
01/25/2011
Perhaps the most popular time of year for engagements is between the holidays of Thanksgiving and New Year's Eve. And so I've recently been spending a great deal of time helping clients develop visions for weddings that truly reflect the bride and groom. This may be achieved by customizing the "standard" components of a wedding and choosing to implement a few details to make the evening stand out.
Luckily, the typical structure of a Jewish wedding provides some ideal opportunities for customization. An essential component to any Jewish wedding is the chuppah. Profoundly symbolic and meaningful, the chuppah frames the ceremony in tradition. And yet it can also provide the opportunity to personalize.
Some clients choose to have a very simple, traditional chuppah made of family members' tallitot (prayer shawls). Another meaningful yet more elaborate option is to send family and friends fabric swatches to decorate and send back to the couple. The swatches are then sewn together to make the chuppah. After the wedding, as a nice memento, it can be made into a quilt. Yet another option is a sculptural interpretation of a traditional Jewish symbol. For example, the chuppah pictured here (by Kehoe Designs) is inspired by the Eternal Flame.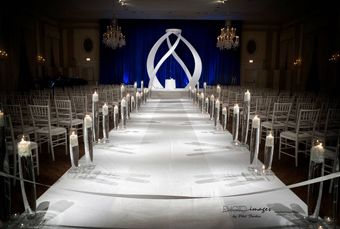 Photo credit: Phil Farber & Kehoe Designs
As the chuppah provides the opportunity to personalize a major component of the wedding, there are numerous smaller details that can be affected. I have had clients add special meaning to their ceremonies by inviting seven significant guests, each to recite one of the seven blessings. Or, in addition to handing out yarmulkes and programs, I have seen guests enjoy small spice boxes while Havdalah is incorporated into a Saturday evening ceremony.
Imaginative musical arrangements can also help make the event distinct. Ceremonies can be personalized with instrumental versions of songs by a favorite band. These favorites sound beautiful and engage the guests when they unexpectedly recognize them.
Receptions offer countless opportunities for unique details. I have found though that the small details are what really personalize a wedding and are what guests often remember most. A recent groom hailed from Alaska. His bachelor party included a fishing trip with friends back home. The wedding caterer served the fish the guys caught on that trip at dinner! Another couple loves to camp and hike. Instead of table numbers, we decided to name tables after National Parks they had visited. And instead of nuts and toffee on the dinner tables, gourmet trail mix was served and s'mores were part of the dessert. Yet another couple numbered their dinner tables but as a fun spin, at each table they placed photos of themselves at the corresponding age. So Table One had photos of the bride and groom at age one, and so on.
Whether a couple chooses to have a symbolic chuppah, incorporate a unique aspect into the ceremony or an unexpected ingredient into the reception, if the details mirror the couple's interests and values guests will feed off of that positive energy and enjoy themselves as well, which is really the greatest result of all.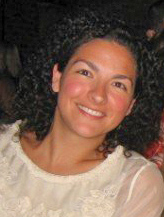 Bambi Caicedo Rogers is the owner of  BCR Events , a Chicago-based event planning company.