Permanent link
A serious falafel craving leads me to Highland Park
01/27/2009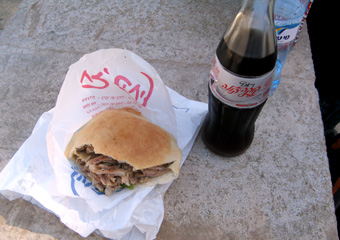 How they schwarma in Israel

After arriving home from a 10-day visit to Israel on January 2, I declared to all who would listen that I would never eat falafel again. Fewer than three weeks later, while thumbing through a coupon book, I saw an ad for Mizrahi Grill, and was overcome with a craving for deep-fried chickpea balls. I grabbed my husband, ripped out the coupon and headed to Highland Park.

Mizrahi Grill is a Kosher meat restaurant tucked into a large strip mall but, despite the generic exterior, the restaurant was inviting, packed with families, and had a casual, boisterous atmosphere. The menu, handwritten on a chalkboard, offered classic Israeli dishes. We placed our order at the counter, where I tried to understand the line cooks' Hebrew conversation, and waited for a table to open up.

Once we were seated, a waiter brought over three small tasting dishes, a beet salad, turnips and garlic chips, my second reminder (after the Hebrew) of my recent stay in Israel, where endless salads streamed out of the kitchen and onto my table, whether or not I wanted them. The extra dishes were a nice touch in a place that felt like a fast-food joint.

We started with the white bean soup, one of a rotating list of homemade soups. It was quite hearty, with lots of veggies, and the portion was very big (for $4, I suppose I should have known it would be a lot of soup). My bowl needed just a little help in the salt and pepper department, but was otherwise pretty good.

The appetizer combo came next, with eight falafel balls, four cigars and two kubeh. Clearly Israeli appetizer combos don't vary much from their American counterparts—the only difference being the particular items that get a trip to the deep fryer. The cigars (rolled, stuffed and fried phyllo dough) were crispy, and the filling was tasty, though we couldn't really identify what it was. The kubeh (fried dough filled with ground beef and pine nuts) were very aromatic, taking me back to the spice merchants of Machane Yehuda, Jerusalem's bustling, colorful outdoor market.

The falafels were a very appetizing golden brown, perfectly crisped on the outside, soft on the inside. They were a bit blander than the many, many falafels I enjoyed while strolling down Ben Yehuda Street, but the texture and crunch were perfect. Joe ate five before I even finished one.

I finished off my meal with a huge plate of hummus and pita, while Joe raved about his schwarma sandwich. The enormous pita was stuffed to the brim with turkey and lamb meat, plus an array of toppings including pickles, Israeli salad, tahini and chips (French fries), just like I remembered. The sandwich was a bit pricy at $8, but seemingly well worth it.

The pita, baked on site, was soft, chewy and delicious. The enormous plate of hummus, topped with olive oil, a dollop of tahini and herbs, plus about eight small pitas was $6. While the portion was generous, the hummus itself lacked zing.

Several meat dishes round out the menu, including various kabobs, skirt steak, a mixed grill and schnitzel. Sandwiches range from $6-$12, and entrees, with choice of two salads and a side dish, run from $15-$25. The entrée pricing seems a bit steep, but the portions are easily large enough to share.

We left the restaurant happy and very full, Joe still marveling about the French fries inside of his sandwich, while I chattered about all of the things I did on my trip (again). On the ride home, I found the coupon in my jacket pocket. Forgetting to use it seems like perfect excuse to feed my next Israeli food craving–I definitely want to try that schwarma!