Permanent link
A story about a band, and then some
01/20/2009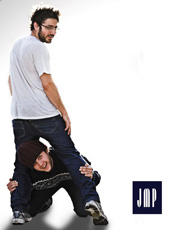 Avicado and Dannyberry, lighting the light

Of 761 things to do in Denver last Friday night, Josephine and the Mousepeople's live show at the Lion's Lair was the Editor's Choice on Metromix. But long before this electro-pop duo was creating a buzz on the Denver music scene, they were two kids finding their voices in the Chicago Orthodox community. Back then on Friday nights, Avi Sherbill and Danny Shyman were not performing She Needs Fire – they were chanting the kiddush.

Avi and Danny became friends as fifth graders at Hillel Torah in the 90s, but drifted apart in their teens and didn't come together musically until a few years ago. At different points along the way, Danny could have been the 13 year old in the bunk next to yours at Camp Ramah, picking up a guitar for the first time. Avi, the youngest son of a rabbi, could have been the kid in the corner studying Torah up to 12 hours a day. Did anyone predict that one day they'd be jammin' in a land of "Levi's jeans and cowboys" where kosher restaurants and kippah sightings are few and far between?

While Colorado may be short on Jews, it's long on Bluegrass, which was reason enough for Danny to move out there. The Josephine and the Mousepeople (J&MP) flame was lit when Danny came home for a visit and ended up spending the week in the bathroom with his old childhood friend, recording music. And the rest is history.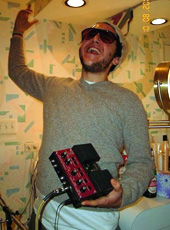 Sure you can have an epiphany in the bathroom – ask Avi

They've still got day jobs. They still do their own laundry. They still chuckle when asked what they'd want to be if they weren't musicians. But during their debut year, J&MP landed high on lists like Top 25 Denver Recordings of 2008 and 10 Denver Acts on the Rise. Music critics and fans alike are talking about their "gorgeous and slightly unorthodox" music, their "emotionally raw" vocals, their "powerfully energetic" performances. And they've inspired more than a few people to go back and read the Kafka short story whose name they bear.

At just 23, Avi and Danny are breaking the mold, religiously and musically. Not in a chest-pounding, lapel-ripping, rule-snubbing way. But in a way that has absorbed the beauty and compassion and rhythms of the worlds in which they have walked, while remaining true to themselves.

Oy: So how would you describe your music to someone like me who had to look up "ep" on Wikipedia to get excited about the fact that you will be releasing one this year?
J&MP: We can't apply a specific genre since we're in the process of creating a sound, but it's music for people who are yearning. In the same way that a Beatles song displays the heart of a person, electronic music displays the heart of a building or a city street or a lamppost. We are trying to connect those two things together, we are trying to create a sonical landscape, we are trying to talk about things that haven't been talked about and it is taking a minute.

Oy: How have your Chicago Jewish roots influenced your music?
Danny: More than Judaism, my parents influenced my music. They showed me the kind of love that I did nothing to deserve. I relate to them now through this, even though at times it was hard to see as a kid. They never said, "Okay, we gave him what was necessary for him to survive, now we are done." They let me breathe as an individual. I use that as my gold standard in terms of what is possible between people. And while I don't approach music as a religion, it helps me constantly search for something I can't just hold in my hand. I think that, similar to Judaism, with music I can never be content or stagnate. I'm just looking to keep making progress through growth.
Avi: It's important to be firm with who you are as a response to what you were. I wouldn't be anything without my mom and dad and how I grew up. Both Judaism and music are all-embracing forms. It's not like on the weekend I'm a Jew, or on the weekend, I do music. They are both there all the time – my soul is Jewish. Both Judaism and music are very much about attention to detail. Within a regimented routine, you can have bursts of inspiration. People like me who chase whatever is energizing need something to hone in on. And in Chasidic music, there is such an attention to the spirit of the music rather than the sound – I don't understand music as much sonically as I do spiritually.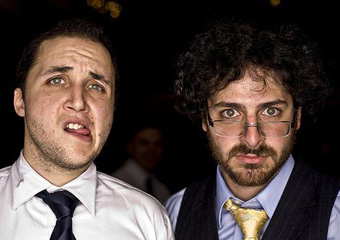 J&MP bringing it home at a Sherbill family wedding. (Afterall, who doesn't love simcha music?)

Oy: I see themes of polarity and balance in your music and your lives. Can you speak to that?
Avi: With music, you start at a very isolated point and then present it to a community of people. With Judaism, it's the inverse; you experience everything communally – including prayer – and it influences your personal life. My teachers taught me to choose wisely what you bring to the table and choose to speak about. It's the opposite in American music, where pain is a starting point and it's cool to talk about, I'm a little guy from Nebraska and I don't have much of a thing going. Other cultures don't have time to be sad when they're doing their music, it's one of the few times they can let loose the spirit. I feel both the pain of American life and the exuberance of the art of existing. If you're cold, do you choose to put on a coat or light a fire in a stove? With music, I feel this ability to not only warm myself up, but to warm others up as well. And on another level, Danny is my balance. I'll go out there and he'll bring me back, especially musically. He's a phenomenal producer, with a grasp of what is approachable. I try to go after ideas that I feel in my body or things I hear on the street. Sometimes it takes a minute to happen musically but Danny has a very concrete way of getting that done. And he gives me room to breathe.
Danny: Avi has a draw about his personality, especially when he sings, that's hard to wrap your head around. We write a lot together, but it is beyond that his creativity inspires me. If he comes up with something really moving and impressive, I feel like I need to match him – there are healthy undertones of competition.

Keep up with Josephine & the Mousepeople on MySpace at  www.myspace.com/josephineandthemousepeople .