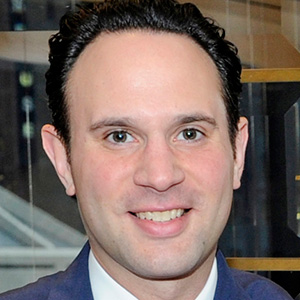 Adam Rogowin might not be living the dream of playing professional hockey, but he's found the next best thing. After growing up competing in the northern suburbs and playing four years of Division III hockey at Connecticut College, Adam made the jump to the NHL -- as a different kind of team player for a hockey franchise you might have heard of before. 
As the senior executive director of communications for the Chicago Blackhawks, including for each of their three Stanley Cup championship seasons, Adam works in conjunction with the community relations department to offer support to the community by involving the Blackhawks with Jewish organizations that make a difference, including JUF, JCYS and Keshet.
Outside of hockey, Adam takes pride in carrying on Jewish traditions with his two sons, Cameron and Gavin.
Age:
36
Primary gig:
Senior Executive Director of Communications for the Chicago Blackhawks
On the side:
Member of the Chicago Executive Committee for the Israel Association of Baseball
Relationship status:
Married
Celebrity doppelganger/who would play you in a movie:
A poor man's Lionel Messi
How do you Jew in Chicago?
My wife Jen and I prioritize passing along values and traditions to our two young sons. This includes our family participation in jBaby Chicago, PJ Library and Board of Jewish Education preschool for our oldest son.
Chicago's Jewish community in 10 years:
Strong because of the impact our ancestors have and will continue to have on our generation. Our generation of Jews in Chicago is one full of pride and innovation that will carry the torch our parents and grandparents have passed down.