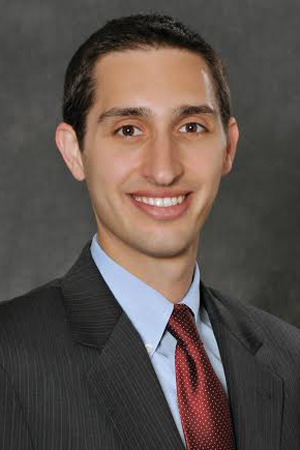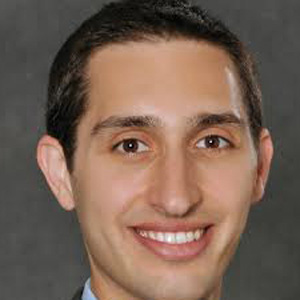 Adam Braun has been described as a "Major League Mensch" – and not purely for his devotion to the Chicago Cubs.
Adam is respected for his honesty and effectiveness as an attorney for the government law and policy group at national law firm Greenberg Traurig, and admired for his involvement in the Jewish community. He was appointed by Governor Pat Quinn to the Illinois Holocaust and Genocide Commission and serves on the Holocaust Community Services Leadership Council and the Government Affairs Committee at JUF. He is also a regular Torah reader at the Rose Crown Minyan at Anshe Emet.
Somehow he found time to do all this while serving as deputy legislative director of the Office of the Governor of Illinois from 2010-2012. During this time he helped pass significant legislation, including civil unions. "Adam has accomplished so much for our community at such a young age," said Michael Zaransky, Adam's friend and nominator.
Adam is also a devoted husband to Naomi Shapiro, a 2013 Double Chai in the Chi honoree, and their 2-year-old son.
Age:
32
Primary gig:
I am an attorney in the Government Law and Policy group at Greenberg Traurig with a practice focusing on state government. I represent clients on licensing, procurement, compliance, and legislative issues before an array of government agencies.
On the side:
Spending time with my wife and son. My son turned 2 in March and loves reading, riding his bicycle, going to the park, and going swimming. My wife and I enjoy cheering on the Cubs, Bears, and Bulls and going to the Steppenwolf Theatre.  
Relationship status:
I'm married to Naomi Shapiro with a two-year old son, Natanel.
How do you give back?
I was appointed by Governor Quinn to serve as a member of the Illinois Holocaust and Genocide Commission. The Commission was created in 2010 to serve as a resource for members of the public, educators, and community leaders seeking to learn more about educational programs, memorials, and events related to Holocaust and genocide awareness. I also participate in a number of JUF committees and provide pro bono legal services to the Board of Directors of the Chicagoland Jewish High School.
Describe yourself in 10 words or less:
Lucky to have such wonderful family and friends.
Celebrity doppelganger/who would play you in a movie:
Can I skip this?? I've heard Luke Wilson before – I guess there are worse people out there…
How do you Jew in Chicago?
I attend the Rose Crown Minyan at Anshe Emet Synagogue in Lakeview, celebrate Shabbat and holidays with family and friends, and participate in Jewish communal organizations.
Passions:
I am a strong supporter of Israel. As a family, we make every effort to travel there as frequently as possible and to support Israeli charitable and cultural organizations.
If time and money were limitless, I would:
Spend a season following the Chicago Cubs around the country. I think the window on becoming the starting shortstop has closed, so taking in a full season of baseball might be the next best thing.
Chicago's Jewish community in 10 years:
Continuing its growth – not only in size, but in strength. I hope that the next 10 years brings a renewed commitment to synagogue and communal institutions across the spectrum of our community and throughout the Chicagoland area
Me in 10 years:
I see myself raising a family, growing as a husband and father, and remaining active in the Jewish community.