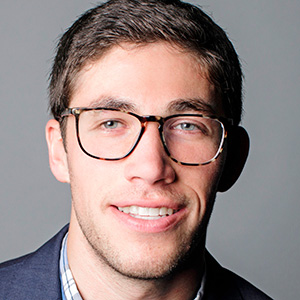 Jonathan Kamel is all in when it comes to Jewish leadership and Israel advocacy in Chicago. Jonathan has devoted his time and energy to a wide variety of Jewish organizations in the city including JUF, AIPAC, Israel Bonds, Israel Policy Forum, AJC, and CityPAC - all in just one year since graduating from Northwestern University. 
And he's already stepped up to take on leadership roles. Jonathan serves on the Israel Bonds Young Leadership Council, is helping found a young professional network for Israel Policy Forum and is co-chair of TeamJUF at this year's Chicago Marathon, to name a few. He also likes to mentor high school and college students to be stronger Israel advocates through JUF's Write On for Israel program and Israel Education Center.
During the work day, Jonathan is building a career in digital advertising as a programmatic analyst for DigitasLBi.
Age:
23
Primary gig:
Programmatic Analyst at DigitasLBi
On the side:
Everything Israel related, local politics and Northwestern sports
Relationship status:
In a relationship
Celebrity doppelganger/who would play you in a movie:
Max Greenfield (Schmidt from "New Girl")
How do you Jew in Chicago?
I love attending Shabbat dinners, especially Windy City Minyan services. I'm a frequent flyer at Moishe House events and the Silverstein Base Hillel in Lincoln Park, where the rabbis are wonderful.
Chicago's Jewish community in 10 years:
Still thriving philanthropically and socially, while actively working to bring the voices of Jews of color, LGBTQ+ Jews, and gender non-conforming Jews to the forefront. As our Jewish community becomes more diverse, we must work harder and more deliberately to create an open and inclusive tent to ensure that all who identify as Jewish feel welcome.