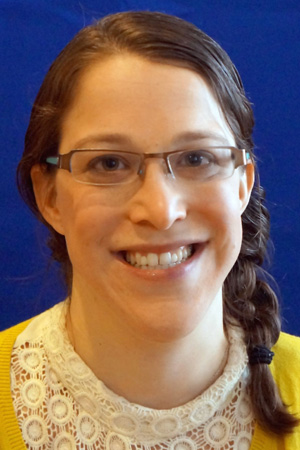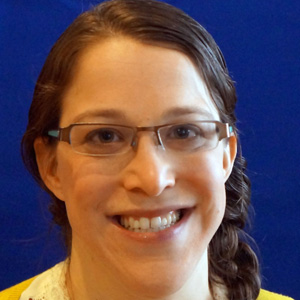 Aimee Halstuk has never let her physical disability get in her way. As the founder of Just Give Me a Chance, Aimee provides programming and community for children with physical disabilities, teaching them at a young age that despite their challenges, they can live happy, successful lives. Aimee also spends her days as an activity instructor at the Center for Enriched Living, working with individuals with developmental disabilities.
"[Aimee] has lived with Cerebral Palsy her entire life, and is using her unique life experience to inspire kids like her to live their full potential and have the opportunity to forge friendships with other kids like them," said her sister, Rachael Mangoubi. "Her dream is to give back to the disability community and make sure that others have as great of a life as she does."
Aimee is a JCC PresenTense Chicago 2014 Fellow, meaning she's a new Jewish entrepreneur, and one of her 'fellow' Fellows, Miriam Ament, also nominated her, describing her as "fearless" and "unstoppable." So we just had to give Aimee a chance, too – as one of this year's 36 under 36.
Age:
26
Primary gig:
Activity instructor at The Center for Enriched Living
On the side:
Founder of Just Give Me A Chance, which is a social playgroup for children with physical disabilities. Just Give Me A Chance is the only organization in the United States that focuses on the importance of play and socialization for children with physical disabilities.
Relationship status:
Single
How do you give back?
First, I would make sure my dear friend who came to Chicago from Colombia when he was 11 had access to the financial resources he needed to pursue his dream of being an orthotist. I would create a system where no one would have to live on the streets or be without food. I would make sure everyone had access to food, water and shelter. I would grow my business to make sure that all children with physical disabilities had a chance to build lasting friendships with people who had similar disabilities. I would make sure all children with physical disabilities had the resources they need to flourish and that no child with a physical disability would be left without medical care or resources. In my free time I would travel around the world learning as much as I could about other cultures and ways of life to expand my world view and give back to others.
Describe yourself in 10 words or less:
Tenacious, strong-willed, independent, brave, determined, joyful, spiritual, unique, thoughtful, leader
Celebrity doppelganger/who would play you in a movie:
Sandra Bullock
How do you Jew in Chicago?
I love the sense of community that Jewish life is for me. I am an active member in Mishkan, which is a Reconstructionist synagogue. Mishkan's main focus is community and spirituality. I enjoy Friday night Shabbat dinners and participating in LEADS. I love meeting other Jewish people and getting a stronger sense of myself through the community.
Passions:
Working hands-on with young children, empowering ability for children with physical disabilities, bettering the world through my business Just Give Me A Chance, Jewish social and spiritual events, outdoor activities 
Chicago's Jewish community in 10 years:
Vibrant, innovative, diverse and forward thinking. It is the young people of today that continue shaping the future Jewish community of Chicago. With so much passion for the Jewish community we'll be stronger than ever before. People like myself will be solving modern-day problems and remembering and honoring the past history of Jews
Me in 10 years:
I will have Just Give Me A Chance fully established. It will be a national organization. I will be leading many of the Chicago groups, as well as traveling around the country making sure the other groups are running smoothly and showing participants that even though they have a disability anything is possible. In addition, I will also be an inspirational speaker that speaks about my experience having cerebral palsy and how I give back to the disability community.