Permanent link
All Posts
12/22/2010
Recently, TGR caught up with former Jewish MLBer Norm Miller. Miller played mainly for the Astros and finished his career in 1974 with the Atlanta Braves. He played with Hank Aaron and was there when he hit the home run to break Babe Ruth's record. Miller was nice enough to grant us an interview. Check it out below.
TGR:You had a 12 year career. What were some of the biggest highlights?
Norm Miller: Biggest highlight no doubt was [my] first time up in big leagues, hometown against the Dodgers and [I] got a base hit. Every day living the dream was a highlight. Playing with Hank Aaron was special. Being a ballplayer was the best.
Who was the greatest pitcher you ever faced and what was it like?
Bob Gibson was the best pitcher I faced by far. Koufax was the best around but I never went up there against him. Facing Gibson, simply stated, was overpowering. Painless and quick.
Do you think the records of Barry Bonds, Mark McGwire, and Alex Rodriguez should treated differently? How should we view the steroid era?
Steroid era is a shame. I blame both the players and management. Bonds, McGwire I have no respect for [them] as people. Rodriguez doesn't bother me. Records should not be acknowledged.
What have you been up to since your career ended?
Since retiring in '74 I enjoyed a wonderful business career in marketing and advertising. I also did radio and TV work and just enjoyed being. I've been married now for 42 years and have two daughters and two granddaughters. I'm retired and writing. I just finished a television pilot idea and a screenplay, my second.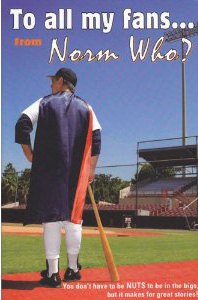 Tell us a little bit about your book,  To All My Fans From Norm Who ?
My book is about my career. What it took, what I did and how much I loved it.  Lot's of stories all real.  Well received.
Do you have any advice for young athletes trying who want to play in the Bigs?
Young athletes need to get real. Most are told they're great and [they're] really not. The percentage that make it is so small. But you don't see the effort you should. I've coached kids for years and the decline in the passion and commitment is noticeable.
Who would you rather start your team with Sandy Koufax or Hank Greenberg?
[I] only know Greenberg from stats and reputation. Give me Koufax...unhittable.
You can learn more about Norm Miller by visiting his website www.normwho.com. Also, check out his book.
And let us say...Amen.
-Jeremy Fine
For more info check out www.TheGreatRabbino.com. Now part of the Yarbarker Network.