Permanent link
All Posts
Oy!Chicago's first match ties the knot 
09/27/2010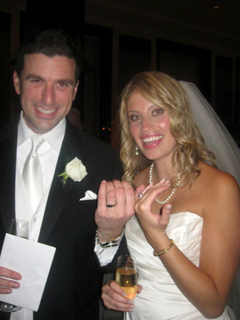 My dear friends who met at the first Oy!Chicago get together in the summer of 2008 tied the knot this past Saturday at the Standard Club in Chicago. Everything about the wedding was beautiful and everyone danced the night away. To celebrate our first love match, we thought we'd re-run the stories we've written about them over the years. Mazel Tov Mr. and Mrs. Chess and thanks for letting us exploit your relationship over the years.

8 Questions for Caroline Friduss and Jason Chess, foodies, gold coast dwellers, Oy!Chicago Lovers
11/25/2009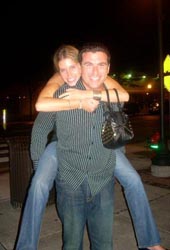 Jason and Caroline out and about in the city
Many of you have attended an Oy!Chicago gathering in the past and have gotten to know some of your fellow Oy!sters. Jason Chess and Caroline Friduss met and hit it off at the get together at Matilda last June, and the couple has since been inseparable. Caroline is a Registered Dietitian who works with the elderly as a nutritionist at Friendship Village (a retirement community) in Schaumburg. Jason, a recent West Bloomfield, Michigan transplant, is a Business Banking Officer and Assistant Vice President for National City Bank. The two have discovered that they share a lot in common. It doesn't seem like much of a coincidence that they live just a few short blocks apart in the Gold Coast, but it's the second time they are close neighbors. Caroline grew up in the town next door (Bloomfield Hills) to Jason and lived there until she was eight and her family moved to Highland Park.
So, if you too are looking to meet new people, enjoy eating out or hate Chicago traffic, Caroline and Jason are Jews You Should Know!
1. What did you want to be when you grew up?
Jason: When I was really little I wanted to be a baseball player. Later, I wanted to be a CEO.
Caroline: I wanted to be a chef on the food network.
2. What do you love about what you do today?
Jason: Making a difference for my small business clients and networking to meet new people everyday.
Caroline: I love working within the healthcare field, knowing that I am helping people everyday.
3. What are you reading?
Jason: Crain's Chicago Business and the RedEye.
Caroline:  Loving Frank  by Nancy Horan. It is the next book on my book club list.
4. What's your favorite place to eat in Chicago?
Jason: It's always hard to think of something on the spot because we always like to try something new. So we keep a list of restaurants we want to try. We just had sushi at Mirai, Indian at Veerasway, brunch at Bongo Room, and lunch at Steve's Deli. And the next on our list is Le Lan.
5. If money and logistical reality played no part, what would you invent?
Jason: The ability to make it 75 and sunny every day.
Caroline: The ability to get to work with no traffic.
6. Would you rather have the ability to fly or ability to be invisible? 
Jason: Definitely invisible. I can always fly in an airplane.
Caroline: Probably fly. So I can fly to work.
7. If I scrolled through your iPod, what guilty pleasure song would I find?
Jason: Hungry Eyes from the Dirty Dancing soundtrack.
Caroline: Anything Kenny Chesney! I'm a country fan.
8. What's your favorite Jewish thing to do in Chicago-in other words, how do you Jew?
Jason: My involvement at the Standard Club and being a member of the YLD board.
Caroline: Oy!Chicago, because I met Jason at the first Oy! event.

An excerpt from JUF Love stories
By Stefanie Pervos
2/09/2010
Jason and Caroline—our engaged couple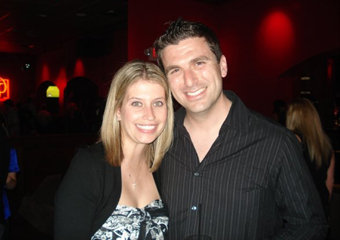 Jason Chess and Caroline Friduss met in the summer of 2008 at the first Oy!Chicago get-together at a bar in Lakeview. Caroline was there to support a friend involved in the website and Jason was there to find a nice Jewish girl.
"I went up to a group of five girls and I started talking to the one I had noticed from across the room, Caroline," Jason said. "I called her three days later, asked her out and the rest is history!"
Caroline remembers talking to Jason for a long time at the bar and realizing just how much they had in common. "I was so excited when he asked for my number that I called my parents the next day to tell them about him. My parents were in Israel at the time and they told their entire bus about it. Maybe it was beshert, maybe my parents being in Israel gave me good mazel (luck)."
Jason, 30, grew up in the suburbs of Detroit and moved to Chicago two years ago where he works as a business banker for National City/PNC. Caroline, 25, is originally from Highland Park and now works as a registered dietitian at Northwestern Memorial Hospital.
Jason proposed this past Chanukah by creating his own episode of their favorite television show "How I Met Your Mother." Jason created a video telling the story of their relationship, including scenes from where they first met at the Oy!Chicago party, their first date and other memorable moments from their relationship leading up to the proposal. They will be married in Chicago this September.
Their advice to Jewish singles out there? 
"Stop looking," Caroline said. "When you stop looking for your beshert, it will happen."
"Be involved in JUF, YLD, and other Jewish organizations. Be open to meeting new kinds of people," Jason said. "We would like to thank Oy!Chicago and JUF for introducing us. It's amazing how much this organization has done for us and we're happy to volunteer and stay involved."