Permanent link
All Posts
01/15/2010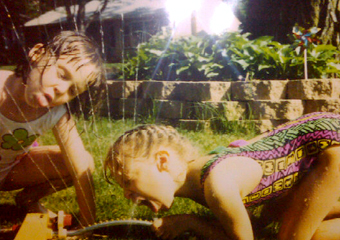 Today my little sister turns 22. 22! She is halfway through her senior year of college. It sounds so cliché, but I can't believe how fast she is growing up. It seems like just yesterday she was showing me her prom dress, and now here she is, just one semester away from graduating.
Mollie and I are like any sisters. We have more fun with each other than with anyone else, but we can also fight, make each other cry and annoy the shit out of each other. Each time I see Mollie (almost all Jewish holidays/Spring and Winter break), she and I have more and more fun with each other and fight less. I'm proud to report that we didn't fight once over Christmas (and I was home for 4 whole days!!). Lately, I've been so proud of Mollie and all that she has accomplished. I love her so much, and I don't tell her nearly enough. So for Mollie's 22nd birthday, I have decided to dedicate this blog to her, and list 22 memories/quotes/things I love about my fabulous, almost 22 year-old sister.
22. I'll start with a quote: "Sisters annoy, interfere, criticize. Indulge in monumental sulks, in huffs, in snide remarks. Borrow. Break. Monopolize the bathroom. Are always underfoot. But if catastrophe should strike, sisters are there. Defending you against all comers." ~Pam Brown
21. This number reminds me of making drinks for the family at last year's Hanukkah party, and finding out that they were 99% water because a certain sister couldn't wait to turn 21, and had so cleverly re-filled the liquor bottles with water… smooth move, Moll.
20. My screen name was Abbster1. So you decided to be Molester1. How do you explain to a little girl that "Molester1" is not an appropriate name for AOL's "kid chat."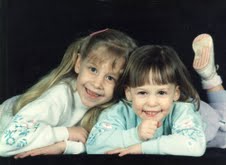 19. Recent memory: our Spice Girls performance. (we'll pretend this sing-a-long happened much longer ago than it actually did…)
18. You used to play "teacher" every single day. You made up names, lined up dolls, and created lesson plans. Now you really are a teacher. Congrats again on Teach for America. Your students are beyond lucky, and I'm prouder than proud.
17. I love our pow-wows that still occur before each shopping trip with Mom. "Ok, if we don't fight at all, Mom will buy us soooo much more!"
16. I may have acted annoyed at the time, but I loved when you insisted on sleeping on my bedroom floor for a few months, instead of sleeping in your own room, 10 ft. away.
15. Molldoll4712. 'nough said.
14. "You keep your past by having sisters. As you get older, they're the only ones who don't get bored if you talk about your memories." ~Deborah Moggach
13. Our Wednesday night Top Chef "BBM sesh". It's almost as good as actually watching with you.
12. Rocking out with you at the No Doubt concert
11. I'm sorry for always making up different versions of the "you were adopted"/"bought at a store" story when we were little. Even if we did buy you at a store, I would never dream of returning you.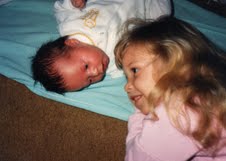 10. We used to make the Best. Forts. EVER.
9. Grand Lake, Winter Park, Breckenridge, Steam Boat!
8. I'm glad you can always call me (or at least BBM) when you're upset about something.
7. If playing Scrabble was a professional sport, you'd go pro.
6. Thanks for actually enjoying the torturous games I made you play. Such as the game where I tied you to the railing with bed sheets and timed you to see how long it would take you to untie yourself. Good times.
5. Your maturity and bravery has always amazed me. You've shown so much leadership and passion as a Rho Gamma for your sorority, and I'm awed by your strength and independence to decide to move to New Orleans, a city you've never even visited, to teach underprivileged youth for two years.
4. You may look like Barbie (or at least Skipper) now, but you definitely did not resemble Barbie as a booger-y two year old who would break my Barbie cars by trying to fit in them, one foot in each seat.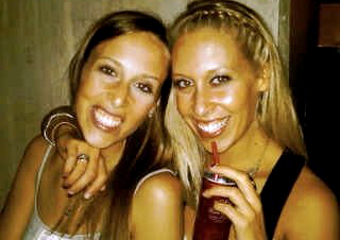 3. I loved the years at camp and school when we would overlap. So fun.
2. Thanks for the "turtle" you left in my room. Thank god I didn't pick it up.
1. I love the kid you were, the person you are today, and the person you'll be later in life. I have the best memories with you, and I actually get excited thinking of how many more memories we'll create as we continue to "grow up".
Love you lots, Mootsie! Happy 22nd Birthday!! xoxo
To all the Oy! Readers who've actually made it all the way through my list—wow. Mazel Tov. Hopefully you'll be inspired to take the time to share special memories with someone important in your life!