Permanent link
All Posts
A Chicago Mensch 
10/20/2009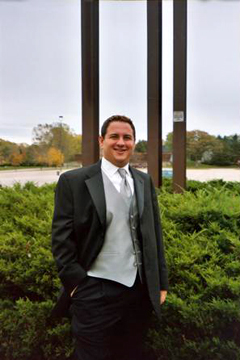 When you think of a mensch, what comes to mind? Maybe it's your grandma telling you to be a mensch or maybe it's the rabbi at your Bar Mitzvah telling you to grow up and be a mensch. What probably does not come to mind is the grassroots effort started a few years ago in Chicago known as MENSCH, Men for Shalom in the Community and Home.
Picture a group of Jewish guys sitting around a table – guys who work in business, technology, recreation, law, mental health – getting together not to talk about Monday night football or cars or how much money we make. We get together to talk about violence against women and girls – and what we can do to eliminate it.
I first came to the MENSCH table because my friend and MENSCH founder Randy Parks asked me to. I stayed for many reasons.
MENSCH is a community of Jewish men with different perspectives who share a common goal.  We all have daughters, sisters, mothers, and friends and we want them to be safer. At monthly meetings, we have spent many hours learning, sharing, exploring, and discussing ways to make a difference.
You never know who is affected by domestic abuse, be it verbal, physical, financial, or sexual. It could be someone who lives in the apartment upstairs, someone who works with you, someone you meet at bar, or a friend of a friend. Through my job, I encounter many young Jewish people. Do I know how to listen? Would I know how to help?
I brought my youth group to a MENSCH community education event, exposing these high school kids to the issue of abuse and engaging them in dialogue. The Clothesline Project, organized locally by Response, is a powerful visual display of t-shirts, each created by a survivor of abuse. Behind every shirt is a person with a story. I watched these kids begin to "get it". Through MENSCH events at synagogues, JCCs and elsewhere, and through individual conversations, we can help our friends, our brothers, our sons start to "get it".
"Get" that we have not only the opportunity, but the responsibility, to prevent attitudes and behaviors that lead to relationship violence. "Get" that building a healthy community, free of violence, starts when we can recognize the harmful effects of our own attitudes and behaviors on our partners, our community and ourselves.
It's not that guys are schmucks and we should feel guilty. Most men are not violent, but most acts of violence are perpetrated by men. I have the ability, and the responsibility, to do something about it.
To help further our goals, MENSCH recently joined forced with JCARES (Jewish Community Abuse Resources, Education and Solutions), a dynamic coalition working to create a community that prioritizes safe, healthy relationships. With the support of JCARES, MENSCH is launching an attitudes and beliefs study. When we are done, we will be able to say, this is what Jewish men think about domestic violence. And the results will help shape future directions for MENSCH.
In the meantime, here are ten things you can do to make a difference:
• Encourage your HR department to sponsor workshops on positive relationships in the workplace, then sign up and bring your co-workers with you.

• Be a good listener.

• Read the SHALVA fact sheet on what to do when someone needs help.

• Speak with the boys in your synagogue youth group about ways to be cool that don't come at the expense of others.

• Embrace the driving/sex metaphor. Encourage your friends not do either when they or their passengers are drunk.

• Attend a rally, speaker, or seminar – just as you would for Israel, a favored politician or football team. You can "own" men's role in violence without being personally guilty.

• Talk to your friends about attitudes you likely share.

• Participate in the upcoming MENSCH Attitudes and Beliefs Survey.

• Know that there are resources out there – check out the MENSCH website to learn more.

• Take a moment to think about the way you're talking and what you're doing – in the words of your grandma and rabbi, be a mensch.