Permanent link
All Posts
06/17/2009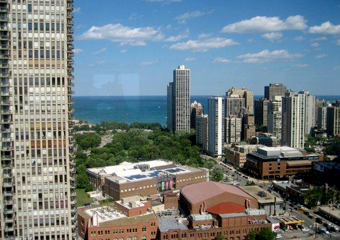 View from my window -- oh, Chicago, how I'll miss you...
"Don't it always seem to go that you don't know what you got 'til it's gone?"
 
Joni Mitchell must have been reading my mind.  Ok – so I wasn't quite born yet when she wrote it, but she certainly said it right.  I've lived in Chicago now for three years.  I've been to the Field Museum and the Shedd Aquarium.  I've meandered through the Lincoln Park Zoo, sunbathed at Oak Street Beach, and mastered the maze of bus lines and El tracks.  I've drunken my fair share of beers at the weekly street fests, seen the planes whiz by at the Chicago Air and Water Show, and witnessed the spectacle that is Flugtag – Red Bull's flying machine contest on the shores of Lake Michigan.
 
Most of these things happened by accident.  I never woke and said – "I'm going to take advantage of all that Chicago has to offer today!"  But maybe I should have. There are so many things in the city that I've wanted to do and see and just haven't found the time.  I want to picnic and see a free concert at Millennium Park and learn to salsa dance at Chicago Summer Dance in the park.  I want to eat Greek food in Greektown, Indian food on Devon, and Chinese in Chinatown.
 
As we race toward July 31st – the dreaded date where nearly every renter in town is seeking to move into a new place to call home, or, if they're lucky, bunkering down for another year in an apartment they love – I begin my countdown to the end of my Chicago residency.  I'm not going very far, just to Evanston, and I don't intend for this to be permanent.  What's crazy is that I loved the suburban lifestyle growing up in Cleveland.  LOVED IT.  I never wanted to leave.  Now, a few years later, I'm having mini-van nightmares and wondering how I can have a social life from a whole 13 miles away from downtown Chicago.
 
Luckily, Evanston still has a beach, a farmers market, a movie theater, a bunch of good restaurants and even a couple of bars!  So, in a handful of days (37, but who's counting, right?), I'll be northward bound.  I know I'll still have plenty of opportunities to head south, and I have a few great friends who will lend me their couches to save me a $30+ cab ride home late on a Saturday night.  But in the meantime, I intend to squeeze all the fun I can possibly have into my Chicago experience.  Any suggestions?