Permanent link
All Posts
05/28/2009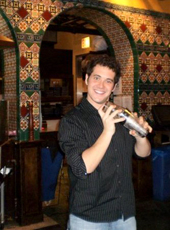 When someone asks what makes Chicago so great, several possible answers come to mind:
Many natives like to boast about Chicago's wonderful and illustrious architectural history.
Some can't wait to point out our culinary fame, persuading tourists to go to deep-dish pizza joints and the summertime gorge we call the Taste of Chicago.
Others mention the city's natural beauty with its lush public parks and bike friendly avenues, despite the looming skyscrapers.
But I am not like most natives.
Sure, I may have been drinking since day eight like most Jewish males (badam-ching!), but still too many fail to realize the rich history – and promising future – of cocktails available to Chicagoans. We all know that alcohol has been an integral component to human society since the dawn of civilization, and the Jewish community is not without its history, too. Jews have also been a part of Chicago since 1832, when cocktails were in their Golden Age and Chicago was rapidly becoming a major transitional hub between the expanding colonies and the New Territories. Fast-forward to the Prohibition, and you have Al Capone smuggling moonshine and beer into speak-easy joints right in the heart of our city. There is even a tour that takes you around his old stomping grounds, reenacted in a makeshift prison bus. Today, there is no shortage of bars and nightclubs to whet your whistle, including those frequented and managed by members of the tribe.
Since we are discussing cocktails, I will be providing a different cocktail recipe for you readers with each new installment, either to try at home or out on the town.
This time, I have chosen Cohasset Punch, one of the old school Chicago staples that has since vanished from drinking menus.
1½ oz dark rum, 1 oz sweet vermouth, juice of ½ lemon, ½ oz syrup from canned peaches (or peach purée/nectar), ½ oz Grand Marnier, and 2 dashes of orange bitters.
Start by putting half a canned peach/purée in the bottom of a saucer champagne glass; then half-fill the glass with shaved ice (crushed is an ok substitute). Put all the liquid ingredients in a shaker with ice. Shake and strain into the glass.
Try it for yourself and tell me what you think!
Until next time,
L'Chaim!