Permanent link
All Posts
06/23/2015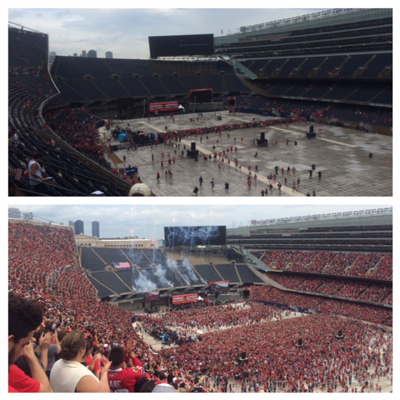 I am not a big sports fan, partially due to growing up short and slightly overweight and partially due to growing up in a city without any professional sports (Wichita, Kansas). Our entire city pretty much followed college basketball. We did have minor league baseball, hockey and soccer, but Wichita State University's baseball team was the main attraction.
My lack of interest usually comes to the surface during the weekly Kiddush in my synagogue when people start taking about trades, winning streaks and fouls. I usually just nod my head in agreement.
My 15-year-old son, Eli, however, is a fanatic. I keep up with the scores, watch some of the games with him (and let him explain things to me) and try to bond with him. It's important to show interest in what our kids are interested in. I see from friends that there is a special bond between parents and children when it comes to sports. My son has been wise to me since he was 6. He knows that I'm not as into it as other dads, but he's cool with it. He sees that I make the effort and I hope there is something to be said for that.
I do, however, look for opportunities to experience the excitement. Two years ago we went the Blackhawks parade and this year, thanks to a really good friend, we went to the rally at Soldier Field.
We got inside at 8 a.m. and spent two hours just hanging out and walking around. As the stadium quickly filled up there was definitely a feeling of camaraderie as a sea of red spread in every direction. The shared energy was much more tangible at the rally than at the parade. It could be the fact that at the parade you just wait for the players to pass and then go home that the excitement is transient. At the rally you are there before the parade, watch the parade on the jumbotron, watch the players get announced, hear all the thank-yous, lose your voice as 60,000-plus people sing "Chelsea Dagger" (although I prefer their other theme song, "Keys to the City" by Ministry), then you join the flood of people and leave.
It's ironic that as a teenager, I was so against conforming and dressing like the masses. The blatant lack of individuality left a bad taste in my mouth. Of course, these days, I am just as guilty of conformity in dress -- well, in kippah -- as everyone is in my observant sub-culture. That being said, my son and I rocked our red jerseys. We cheered when the players came out and clapped after the speeches.
As I looked around, being part of the collective is what makes the experience something special. Sometimes the group is greater than the individual. It's that way in families, in school, in work, and in the way we connect with our Judaism. The unity among sports fans should be an example of how the diverse Jewish community should ban together for certain causes. Of course, easier said than done, but if you own a red piece of clothing then you're off to a good start.