Permanent link
All Posts
01/09/2014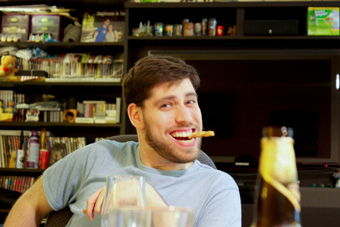 Let's be honest: I'm honestly not honest when it comes to my New Year's resolutions. Honestly. So this year I thought I'd set a few resolutions that are truly more obtainable. (I might have done something like this last year. But let's be realistic, if you don't click the link that's right here, you'll never know for sure. Will you?) 
In point of fact, this started out as resolutions that I could genuinely obtain. Also in point of fact, I meant for these to be reliable, just and true. Finally, in point of fact, some of these are very silly. Wow. Fact is up to three points. Swish. So enjoy my list of this year's 18 honest New Year's resolutions. I honestly don't think they'll stay that honest but one can only hope. In point of fact, once you have two or more, there's a lot more you can do than hope. Four points.
1. Brush my teeth at least twice a day so I don't have to lie to the dentist.
2. Start going to the dentist.
3. Start putting my pants on like everyone else. One leg at a time. Because trying to literally jumpstart my day is getting painful.
4. Start buying proper groceries because blocks of Philadelphia cream cheese and Flamin' Hot Fritos just ain't cutting it anymore.
5. Instead of just going by Adam Daniel Miller, start going by my full name: Adamantium Daniel Day Lewis Miller High Life. For posterity.
6. Eat less. Of what, I have yet to determine. I'll let you know later. It's not going to be Spaghettio's though. I should always eat more Spaghettio's.
7. Clean my dishes faster than 'the next time I need to use that dish.'
8. Pay my bills on time because having three separate guys named Bill simultaneously coming after me is getting ridiculous.
9. Enjoy life more. It's a fantastic cereal.
10. Be less lazy. Or as my girlfriend would say, "stop taking a cab to the bus stop."
11. Explain to more people that it is impossible to have a 'first world problem' because we do not live on Mercury.
12. Count my blessings. But only the ones I say to people after they sneeze.
13. Quit smoking in my apartment. I'm getting sick of the salmon smell.  
14. Enjoy life more. It's a fantastic board game.
15. Try and be less indecisive. Not sure if I'll follow through with this one.
16. Work on my drinking problem. Yes, this one.
17. Support more local Mom and Pop stores. Those creepy Aunt and Uncle stores are too expensive.
18. Be more honest, even if I'm lying to myself.