Permanent link
All Posts
10/24/2013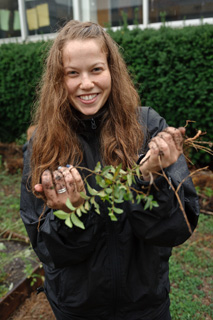 Feed Chicago at The Gan Project. Photo credit: Bob Kusel
I love the holiday season: Halloween, Thanksgiving, Chanukah; the music, the food, the presents, the traditions. One family tradition that I hope to maintain in our home is that of giving back.
The holiday season is a time to count your blessings, and with each festive meal, each present we give and receive, each party we attend, I find that my thoughts are drawn to the people – individuals, families and kids – who are not as fortunate as we are.  There are so many people who can't afford gifts, who don't have the money for a turkey, or who have no one to celebrate with. Taking a bit of time out of the hectic holiday month to share our blessings with others makes me feel good, and I know that by doing this year after year, it will instill the importance of giving in our children for life.
In my previous life as a volunteer coordinator, I spent the weeks of Thanksgiving, Chanukah and Christmas fielding countless calls from families seeking out volunteer opportunities, only to find out that every single spot everywhere they called was full. This is a real phenomenon, because while of course there seems to be an infinite number of people in need, nonprofit organizations have limited capacity for creating meaningful opportunities. They don't want too many cooks in the kitchen if you know what I mean. So even though it's only October, I thought I would share some ideas and strategies for finding holiday season volunteer opportunities in advance, so you don't find yourself in the same pickle on Thanksgivukkah eve.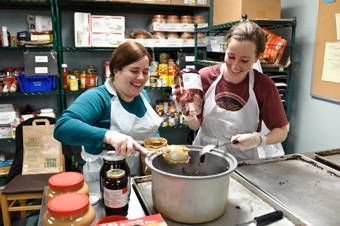 Feed Chicago at the Campus Kitchen at Northwestern University. Photo credit: Bob Kusel
The greatest challenge when it comes to volunteering is getting your foot in the door, since most of us aren't sure where to find these opportunities.  
TOV!
JUF's TOV Volunteer Network assembles a large collection of holiday-based projects in their seasonal Mitzvah Mania calendar. You can sign up directly through TOV, and there are so many options available, across Chicago and the suburbs, in a large variety of agencies.
Online Resources
Chicago Cares, All for Good, Volunteer Match, Idealist – these online resources are clearing houses for one-time and ongoing volunteer opportunities. Your mileage may vary when navigating these sites, but if you can't find a project through TOV that fits your schedule, these are other outstanding resources that may help you find a good fit. United Way and the agencies they support partner with All for Good to list volunteer opportunities, and Salvation Army uses Volunteer Match.
Google
A friendly Google search of "your neighborhood" and "volunteer" and "Thanksgiving" sounds obvious and silly, but often there are niche agencies and programs that run programs that are too small to warrant a listing for volunteers on a large-scale volunteer online database. Also, seasonal opportunities of some agencies often fill so quickly that it doesn't pay for agencies to "over-advertise" a project, since they tend to fill quickly.  
When it comes to what you should look for, really the choices are abundant, whether within the Jewish community or beyond. Options include friendly visiting with the elderly, serving a meal at a soup kitchen, offering a hand at a local shelter, working with kids with disabilities, buying holiday gifts for those who could not otherwise afford it, and so much more. 
Once you've identified agencies that are of interest, give them a call and send an email. Ask to speak with the volunteer coordinator, and don't be afraid to leave a message or two. 'Tis the season to be swamped, and those who are proactive get the volunteer spots.
Happy helping and happy holidays!!