Permanent link
All Posts
04/04/2013
Photo credit: Pasteur 
On a busy North Broadway street in Chicago's Edgewater neighborhood is the much-loved restaurant, Pasteur. The new location, now one year old, prides itself on highlighting the specialty dishes of each region of Vietnam, while infusing French cuisine into each and every bite.
With its white façade and wicker chairs on a patio-tile floor, modern Paris look, French Classical music, and white tablecloths make it seem that you aren't dining at a Vietnamese-themed restaurant at all. The establishment has modern light fixtures, front patio with windows that open up when it's warm, a large back patio with in-wall fireplaces and a private raised first floor room that seats 50 guests. The new place has all the trimmings to be a hot spot on Chicago's north side.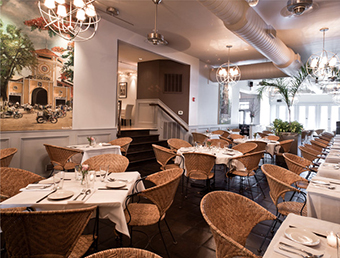 Photo credit: Pasteur 
Pasteur has been around since 1985 but in 2007, a fire in its former space in Uptown left owners Kim and Dan Nguyen looking for a new beginning. They focused the current menu back to the core of Vietnamese cuisine, utilizing traditional techniques and unexpected twists. Pasteur is back and sexier than ever.
The service itself was hands down the best I've ever experienced. It was a slow night and I'm not sure what it's like on weekends, but everyone that was working was our server. Not only did the bus boy take our food and drop off water, but also stopped by multiple times to see how our food was and to recommend items for dessert. Everyone that was working, especially the owner Kim, was very warm and gave us plenty of recommendations on items that were popular. A lot of places that I tend to review will come down to how good the service is. With the service at Pasteur, I am happy to say that you won't leave disappointed; it's worth the trip to Edgewater.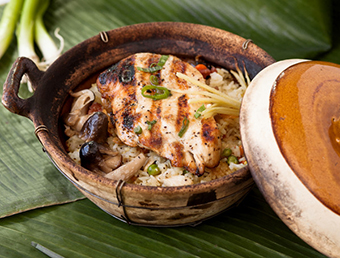 Photo credit: Pasteur
We started with the W.T.P. Bloody Scary Mary with house made Pho beef broth garnished with Thai basil and Chile blue cheese stuffed olives and Vietnamese beef jerky ($11) as well as the PCP: Thai chili and pineapple infused vodka, Grand Marnier, sour mix and pineapple juice with a pomegranate liqueur float ($11). The Bloody Mary wasn't spicy but the beef broth, amazing. My wife ordered the PCP, which she loved. From experience, she is very picky about martinis and this one was "just amazing". The Mixologist created a custom menu, which you can find at the bottom of this article.
Our appetizers were the Tofu Summer Rolls: fresh rice paper roll filled with fresh mango, avocado, cucumber and green plantain. Served with a tamarind dipping sauce ($7), Saigon Crêpes: a coconut milk and rice flour crêpe filled with chicken, shrimp and straw mushrooms. Served with lettuce for wrapping and fresh herbs ($9), and Vegetable Egg Rolls in an egg-based wrap with cellophane noodles, jicama, woodear mushrooms and taro served with sweet and sour sauce ($7). You will see a trend as dinner went on that prices were fairly inexpensive compared to what you might find at an upscale fusion restaurant downtown. The crepes, while massive and shareable were good, but they didn't stack up to the rest of the meal.
For our main course, we ordered the Rice Noodles with Vegetables, sautéed with an assortment of vegetables ($15), Grilled Beef Short Ribs marinated bone-in charcoal grilled and served with a side of endive, mango and avocado ($18), and the signature Red Snapper: Chef Dan's classic whole fried red snapper, center boned filleted and topped with a spicy pepper, garlic and onion sauce with the head and all ($35). Each dish was wonderful in it's own way, but the Short Ribs were truly to-die-for and highly recommended. The Red Snapper is two full pounds so it's worth sharing. Speaking of sharing, many of the entrées had smaller portions, which were more than enough for one person. Yes, everything comes on a big plate here.
Of course, there's always room for dessert and Pasteur had the good stuff. We ordered the recommended dish, Banana and Raisin Bread Pudding topped with a scoop of vanilla ice cream and drizzle with hot caramel sauce ($8). This dessert was exquisite, period. They have their own recipe at Pasteur where they remove some of the usual ingredients and substitute them with Coconut – you need to be here to believe how good this dish actually is.
3.5 out of 4 Stars! I highly recommend this restaurant as a neighborhood gem, great for foodies, and good for groups! Come into Pasteur for a true French-Vietnamese experience.
Reservations are recommended using OpenTable.com or by calling the restaurant directly at 773.728.4800. The restaurant does have carryout and delivery services using Grubhub.com or by calling the restaurant. You can see the menu HERE.