Permanent link
09/28/2012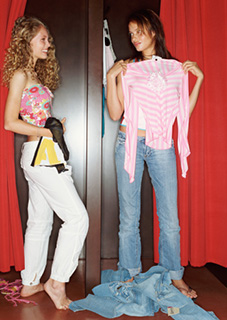 I was going to write about my Top 10 list for fall clothes and accessories and discuss some of the amazing, plush leather handbags, etc., that are on my radar. But, after attending High Holiday services, I thought it appropriate to switch gears. For both Rosh Hashanah and Yom Kippur services, I couldn't help but notice the completely inappropriate attire of the tween females in attendance.
When I was in middle school and high school attending services with my parents, it was understood that although I could still be fashionable, I must be appropriate. (After all, I'm sure all of us ladies have noticed that the aisle between the pews can turn into quite the little catwalk before the Rabbi approaches the bimah.) When I was a pre-teen, I wore dresses or skirts that hit at the knee with flats or low heels and an appropriate blouse or sweater. I always wanted to look my best, and I stayed on trend, but my mother taught me the importance of respecting the synagogue as a place of worship and sophistication and I respected this concept and dressed with that in mind.
Now, I shouldn't make a blanket statement about every tween female, as I'm sure many of them were dressed just fine at synagogue, but I have to say, I didn't notice the appropriately dressed ones because I was utterly distracted by the spandex micro miniskirts, slouchy off the shoulder sweaters, distressed leather ankle booties, and tangled waves of hair. These girls literally looked like they walked out of an Urban Outfitters or Free People catalogue and were about to go to an indie concert in a bar (I know, ironic because they are not even old enough to go into a bar). If I was their mother, I don't know if I would feel comfortable with my 12, 13, 14 or 15 year old wearing an outfit like this to the mall, let alone synagogue.
I have noticed this issue in years past, and never approved, but this fashion epidemic was particularly bad this year. I'm pretty sure that a black miniskirt with red sequins down each side is not meant for synagogue, or really most places, minus the club or the street corner. I am a huge advocate for girls learning at an early age the importance of empowerment through fashion and developing a personal sense of style, but I also believe this should be filtered and modified depending on the occasion. I also understand that middle school and high school are places where being "cool" and "fitting in" are major priorities, and these girls knew they would probably see a few classmates at synagogue, so they wanted to make sure they're wearing whatever is "in," but can't this happen in a way that is tasteful and appropriate?
What are your thoughts? Did you notice this at services this year too? I like to think I'm hip, although I usually lean conservative in my attire, but am I completely out of touch or overreacting?