Permanent link
09/01/2010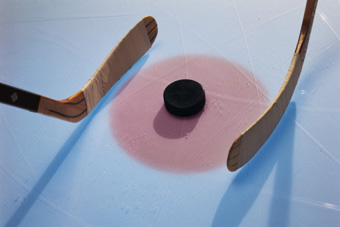 During all the Blackhawk craziness in Chicago I searched and searched for a Jewish connection. Recently, I tracked down former Jewish Blackhawk Steve Dubinsky, who is still involved in the game through his sons and youth hockey. He was a really nice guy to talk to and still a big Hawks fan. Check out my interview with Dubinsky and celebrate the Hawks big win all over again:
The Great Rabbino: Did you follow the Blackhawks throughout the season? If so, how did you celebrate? 
Steve Dubinsky: Yes, I was rooting for them. It was extremely exciting. I was a firm believer that they would win. I was happy for the city and the organization. But on a personal level, it was not my place to celebrate.
What was the highlight of your playing career?
Probably my first goal against Vancouver in 1994.
Who is the greatest player you ever played against?
Probably Gretzky. Maybe Lemieux.
Who is the greatest goalie you ever face?
[Patrick] Roy, for sure.
Did you face any other Jewish hockey players during your time?
Yeah. Both Ronnie Stern and Mathieu Schneider.
What are you up to now?
I am in Edmonton for some youth hockey. There will also be a tournament in Vernon Hills, which will be great. I own a development company. Also, I work with Glacier Ice Arena in Vernon Hills.
Do your kids play?
All three of my boys play. My middle son is actually playing for the Junior Blackhawks.
Which is better: Chicago Stadium or the United Center? 
You just can't compare the old stadium.
Having lived in Chicago, what is your favorite Chicago pizza place?
For sure, Lou Malnatis.
Dubinsky suggested we check out www.selecthockey.com.
Thank you again to Dubinsky for answering our questions and taking the time out to speak with us.
Good luck in the future.
And Let Us Say...Amen.
For more on Jewish Sports check out www.greatrabbino.com