Permanent link
08/03/2012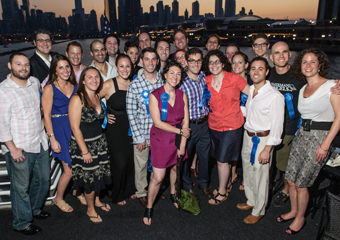 The recipients of the first Double Chai in the Chi: Jewish 36 under 36 list. 
Pictured: Beth Avner, Jenna Benn, Rachel Drescher, Jeff Ellman, Laurie Grauer, Lizzi Heydemann, Joel Holland, Jonny Imerman, Shalom Klein, Rachel Kohl Finegold, Ari Levy, Scott Lieber, Josh Liss, Ilana Marczak, Samantha Margolis, Michael Masters, Michael Oxman, Matthew Seidner, Benjamin Singer, Cameron Smith, David Solow, Kenny Stolman, Josh Weinberg, Adam Weingarten, Amy Witt, Jill Zenoff
Not pictured: Jordan Bendat-Appell, Brad Finkel, Aliza Goodman, Leah Jones, Lindsey Markus, Matt Matros, Evan Moffic, Brandon Prosansky, Jimmy Sarnoff and Roslyn Turner
Thanks for coming out to the WYLD on the water party last night! We had a total blast and hope you all did, too. Here is a sneak peek of some of the 36 under 36 posing on the boat. To see the rest of the photos from the event, click here.