Permanent link
08/16/2012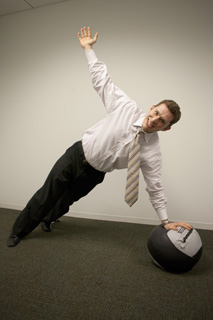 I once had a client drop 12 pounds and lower his body fat percentage by 10% in just four weeks. I often have pregnant clients who have babies and come back thinner than before. I am constantly amazed by the transformations I see in my clients. I get to witness the "after" picture all the time and it's pretty amazing. Because I know what the body is capable of, I encourage everyone to get fitter, leaner, more muscular… and sometimes I need to turn it off.
You might think, why turn that off? The thing is, I'm learning people do not always want to hear, "you could get leaner" or "actually all calories matter, even those five m&m's." (Bear in mind, I breakdown often and have five (yes, I count them) Peanut M&M's a few times a week.) Now the list of offenses continues. I told my sister she was "a little chunky" in college. My wife deals with the comments that I don't think are mean, but no one wants to hear, such as, "are you sure you're not full?" and "you should thank me for helping you eat more veggies." I know, it's surprising it took 32 years for someone to swoop me up. However, I have pledged to stop packing protein shakes in her lunch (unless she asks for them).
By the way, my recipe is very tasty: 
½ cup Almond Milk 
½ cup 1% Milk 
Tablespoon Greek Yogurt 
Tablespoon Justin's Chocolate Almond Butter (or Peanut Butter) 
Banana 
Jay Rob Chocolate Protein Powder
I'm only trying to help when I suggest you switch to Greek yogurt, but moving forward, if you didn't ask me, I won't volunteer it. That's right; I'm going to turn off the trainer. (Keep in mind if you ask one time for advice, you'll have to ask me another time to turn off the trainer.)
When I'm at dinner with a non-client, I will not suggest the grilled calamari over the fried. If you know me, you know how hard it will be, but I'm going to do it. I will save my fitness suggestions for clients, readers and those who actually ask me for advice.
With that said, for those of you that want a healthy recipe, here are two of my new favorite, super easy sides.
Quinoa Cauliflower and Cheese
This is super easy and tasty! It has a good amount of protein, fiber, flavor and it's inexpensive.
2 cups low sodium chicken broth
1 cup quinoa
1 package Green Giant Cauliflower and Cheese
Cook quinoa with chicken broth, simmer for 20 minutes. Cook veggies according to label. Mix in with quinoa, let sit for five minutes.
Sweet Potato Hash
This takes a little work because you have to grate a sweet potato but it's simple and much healthier than the alternative.
1 Sweet Potato (will be enough for two people)
Olive oil
Cinnamon
Curry
Pepper
Salt
Preheat a skillet with a little olive oil. Grate a sweet potato. Place in skillet over medium heat. Add spices, cook until soft or browned. If you want to kick it up a little bit on the flavor scale, put in a tablespoon of butter.