Permanent link
08/12/2013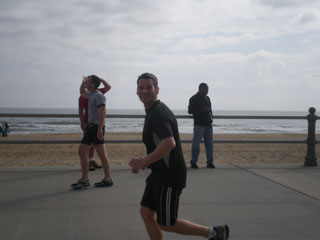 I have written about running a few times before (The Last Run Down the Lake, Runner's high and 4:23:12) because running has changed my life. It has become more than a hobby and piece of my identity. For me, being a runner is about taking steps to get farther and faster in life. The blood, sweat and tears I put into the sport push me to accomplish more in my day-to-day life. However, this fall I will be running not just to change my life, but the lives of others. 
I am running the Chicago Marathon on Oct. 13 to benefit an amazing organization called PresenTense. That is 26.2 miles through the streets of my kind of town, sweet home Chicago! PresenTense is where community and entrepreneurship meet. It is a global enterprise equipping passionate people to address communal challenges in the present tense. They have a presence in 10 cities across the U.S., Israel and Russia, including my former home, Chicago, and my current home, Washington, D.C.
I want to also add that throughout my training, though I am not an official team member, I will be thinking of my friends on Team JUF that are out there running to raise money and awareness for the Jewish United Fund/Jewish Federation of Metropolitan Chicago. JUF is one of the largest not-for-profit social welfare institutions in Illinois and the central address of Chicago's Jewish community. I plan to donate to Team JUF (and I hope you will too).
As far as PresenTense goes, while working at The Jewish Federation of Greater Washington, I coordinated the launch of the DC PresenTense Fellowship in 2012 and I train new fellows as a PresenTense Social Start Trainer. I have experienced firsthand how PresenTense programs empower individuals with new ideas for social change to make a difference in their local communities. PresenTense invests in people: innovators, entrepreneurs, community leaders, educators, and thinkers. They support and are supported by hundreds of volunteers and community members around the world, and they rely on donations to make those investments possible.
Over 400 innovators with ventures that benefit their local communities have been a part of a PresenTense fellowship.For example, Jill Zenoff of The Gan Project was a PresenTense fellow in 2012, providing a source for sustainable agriculture in Chicago. Elizabeth Weingarten from Washington, D.C. launched Tribelle in 2013 to help female Israeli artisans gain access to a broader market for selling their jewelry. Other projects have involved improving religious school education and sending underprivileged communities used sports equipment for school athletic programs, just to name a few.
When you visit www.100reasonstowin.com/marathon you can find a place to donate and learn more about helping to spread awareness for my race and other ways to help the organization.