Permanent link
07/25/2013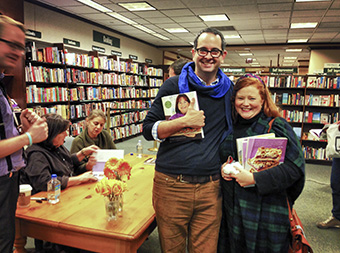 At an Ina Garten book signing
Summer makes me lazy. I spend most of my time trying to tear myself away from Princesses of Long Island. I'm never very successful. I can't help myself. I love that show and everything that follows it on Bravo. But my laziness doesn't end at the edge of my couch: it extends right into the kitchen.
Thinking about having to turn on my oven or even imagining an open flame on my stove-top makes me break out into a sweat. I'm not a fan of the heat and sweating is my least favorite thing. Admitting this out loud makes me sound like one of the Princesses! Perhaps they need a gay friend?
All of this laziness makes the summer complicated for me. What my aversion to sweat really means is that I've been eating a lot of takeout. A lot. It's not pretty. I finally hit a wall last night when the thought of eating my 400th bowl of Kung Pao Chicken made my stomach dance. Instead of switching up my favorite Chinese order, I decided that it was time to work through my slothiness and hit my cookbook collection for inspiration. The challenge? Make something that isn't a sandwich that doesn't require heat of any kind or make me sweat.
Unsure if this heatless challenge were possible, I turned to the Barefoot Contessa. I randomly met Ina Garten a few months ago at a book signing. Well, that is if you consider someone signing your book in silence a meeting. Nevertheless, I decided that my favorite Jewess would save me.
I thumbed through her most recent cookbook Foolproof in the hopes of finding something sweat-free, healthy and dinner worthy. I passed recipes for cosmos and other delicious looking drinks. I paused for a moment weighing the nutritional value of lemon juice, Cointreau liqueur, cranberry juice and vodka. I finally turned the page and discovered Ina's Easy Gazpacho recipe. You guys! It's so good! It's easy, sweat free and it pairs well with my couch. I hope you like it as much as I do.
Ina Garten's Easy Gazpacho
(Adapted from Barefoot Contessa Foolproof: Recipes You Can Trust, by Ina Garten)
2 (28 ounce) cans whole peeled tomatoes, drained
4 scallions
¼ seedless cucumber, unpeeled and seeds removed
1 large red onion
6 garlic cloves
½ cup red wine vinegar
½ cup olive oil, plus extra for drizzling
½ teaspoon celery salt
¼ teaspoon crushed red pepper flakes
2 tablespoons tomato paste
1 ½ cups tomato juice
Kosher salt and freshly ground black pepper
Cut the tomatoes, scallions, cucumber, and onion in large pieces and place them in a food processor fitted with the steel blade. Add the garlic and pulse until the soup is coarsely puréed. Place it in a large bowl and whisk in the vinegar, olive oil, celery salt, red pepper flakes, tomato paste, tomato juice, 1 tablespoon salt, and 1½ teaspoons pepper.