Permanent link
04/27/2010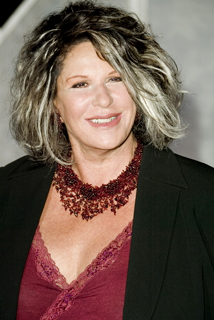 So, as I was researching an Oy! article for Mother's Day on depictions of Jewish mothers in popular culture, I kept running into the same name: Lainie Kazan. She is an actor; her most famous recent role was the mom in My Big Fat Greek Wedding, but she was also the mom of Adam Sandler's friend in You Don't Mess With the Zohan.
Kazan has been playing this Jewish (or Jew-ish) mother character at least since 1982, when she was the Jewish mom in My Favorite Year (she was nominated for a Tony for the musical stage version in 1993).
Just look at her character's names since then: Shirley Hirsch (Oy Vey! My Son is Gay!), Miriam Goldman (Beau Jest), Jeanne Shulman (The Big Hit), Leona Bloom (Beaches)… and even Sylvia Goldman in Delta Force (filmed in Israel by the Golan-Globus guys). Next up, she is the mom in the short Ollie Klublershturf vs. The Nazis, about a Jewish kid with a time-travelling video-game controller.
Also, on TV, she was Claire Steiner in Karen's Song, Rose Samuels in The Paper Chase, Kirstie Alley's mom on Veronica's Closet and Howie Mandel's mom on St. Elsewhere. And now she's an Italian mom— that of Hilda's fiancée, Bobby— on Ugly Betty.
Sometimes, she's the Jewish grandmother, aunt, etc. These characters have included Bubbe in the Bratz movie (the designer of the original doll and two of the "Bratz" kids in the movie are Jewish, too)… the "Old Woman" in Sandler's Chanukah animation, Eight Crazy Nights… and Grace's Aunt Honey on Will & Grace… all the way back to her recurring Aunt Frieda character on The Nanny (in the mid-to-late 1990s).
Kazan's stage musicals have also had female characters who could be seen as either ambitious or controlling: Gypsy, Hello, Dolly!, A Little Night Music, and Who's Afraid of Virginia Woolf? Even Golda in Fiddler holds her own against the blustery Tevye.
The way Johnny Depp plays off-kilter fantasy-world anti-heroes, the way Gilbert Gottfried plays parrots and ducks, Lainie Kazan has almost cornered the market on Jewish mother roles.
But are Jewish mothers really this way? Or is there more to Jewish mothering than smothering? Maybe Jewish mothers are less like Lainie Kazan's characters… and more like Lainie herself.
Her given name was Lanie Levine. She was born in Brooklyn in 1940; her father was Ashkenazic, her mother Sephardic. She went to nearby Hofstra University. In 1997, she was named "Queen of Brooklyn."
She has performed on Broadway, understudying for Barbra Streisand in Funny Girl. A year and a half in, Babs got sick and Lainie finally took the title role; she got such good reviews, she quit the show (and who alerted those critics in the first place? Lanie's mother.)
After her appearance in the October, 1970 issue of Playboy, two things happened. One, she became the basis for a Marvel super-heroine named Big Barda.
The other, more lasting impact on Kazan's career was that she began performing for Hef (as a singer! please!). She ran and headlined two Playboy Jazz Clubs, Lainie's Lounge East (in Manhattan) and West (in L.A.). She sang on Dean Martin's variety show more than two dozen times, and even had her own variety show for a bit. She still does nightclub acts in Vegas and Atlantic City. Kazan even had a song on the Billboard Top 200 back in 1967. Two of her albums are currently available on CD; the material trends toward showtunes and standards.
Kazan, like many Jewish moms, is active in philanthropies. She serves on the board of B'nai B'rith, and was named its Atlanta branch's Woman of the Year in 1997. She also served on the board of AIDS Project LA and has sung at its events. And Kazan regularly visits her own mother.
The problem with the idea of a "Jewish mother" is that before anyone became one, she was first a Jewish woman. No, the average Jewish woman has not had Lainie Kazan's life. But as her life shows, there is no "average" Jewish woman's life.
Similarly, there is no "Jewish mother," when it comes to it. The "Jewish mother"— take Sylvia Fine (Renee Taylor) from The Nanny— or Roz Focker (Barbra Streisand) from Meet the Fockers— has a great deal in common with mothers of other ethnicities.
Look again at the Greek mother in My Big Fat Greek Wedding… or the Indian mother in Bend it Like Beckham and many Bollywood films. Listen to the Italian mothers on Everybody Loves Raymond and Seinfeld— yes, the Costanzas are supposed to be Italian.
True, Maria Portokalos (Kazan), Marie Barone (Doris Roberts), and Estelle Costanza (Estelle Harris) are all played by Jewish actresses. But one must admit that, while their characters are not Jewish, they and those other non-Jewish characters bear much resemblance to the "Jewish mother" archetype.
The original Jewish mothers, of course, were the Matriarchs of the Torah— Sarah, Rebecca, Rachel, and Leah. They are known familiarly simply as, "Imahot (The Mothers)." The Matriarchs of the ancient Middle East do not fit the stereotype of the Jewish mothers of the Lower East Side. None of these women, should the lightbulb— or oil lamp— burn out, would respond as the joke would have it: "That's OK, I'll just sit in the dark."
This Mother's Day, think about the Jewish mothers you know. Are they "Jewish mothers"? Or are they a widely divergent group of women… with a variety of life experiences, personalities, and parenting styles?
If their lives would be turned into movies, would any of them be played by Lainie Kazan? In the Lainie Kazan bio-pic, could she even play herself?