Permanent link
...go and do what?
04/18/2014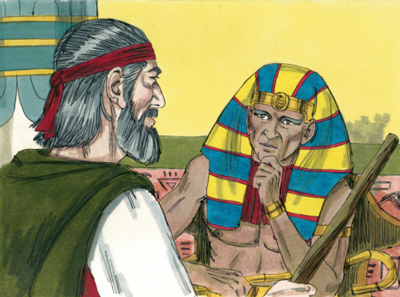 I somehow got sent a copy of "The 30 Minute Seder." It has a song in it that is not traditionally a Passover seder song, but I can see why they put it in there. It's the spiritual "Let My People Go."  
This is a quote directly from the Torah, sure, but it's incomplete. The full sentence that Moses says to Pharaoh in the name of God is, "Send (forth) My people that they may serve Me."  
This is probably a big part of the reason Pharaoh refused. The Israelites were coming back in three days. It would be a capitulation (and a loss of productivity) to let them go for that long, but not necessarily a threat to his reign. Pharaoh could even spin it as proof that they were not really slaves, and that he was even benevolent—"See, I even gave them a vacation!"  
No, it was the second part, I think. Pharaoh could not allow the Israelites—or any in his empire—to think of themselves as able to serve non-Egyptian gods, himself among them.  
Today, we tend to focus on the "freedom" part, and stop at the "go" of "let my people go." But in his book Man's Search for Meaning, psychologist and Holocaust survivor Victor Frankl proposed that, opposite the Statute of Liberty, we build a Statue of Duty.  
Jewish superhero creator Stan Lee agrees, and has his creation, Spider-Man, repeat that: "With great power comes great responsibility."  
On Passover, we celebrate our liberation, and say that we're free. Now that the holiday is over, we have to ponder, "Free to do what?" After four cups of wine, it's a sobering thought.  
And so I propose an addendum to the Four Questions: "Now that I am free to do any thing, what thing do I want to do?"