Permanent link
02/03/2012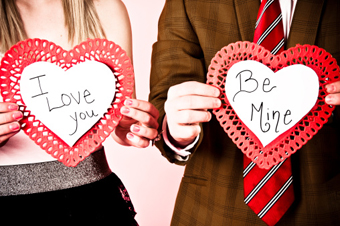 In the past, I spent my Valentine's Days watching couple after couple glide into the restaurant I was working at, sliding up to the bar, their eyes beholding a sparkly, dreamy look. They appeared to be in another place altogether, alternating between gazing lovingly into each other's eyes and frequent "5-second Frenchers." I would always try to welcome them in with a few libations. Wine was the preferred beverage; though not always red-colored or even the clichéd 'rose' blush wine most commonly associated with Valentine's Day. (Champagne or sparkling wine is most appropriate, actually, according to most food and beverage experts). One of the companions, usually the gentleman, would gaze ever so affectionately at his companion, while she would smile coyly and ever so delicately sip on her chardonnay.
Of course, I had the pleasure of meticulously rubbing out the deep red lipstick stain that would take more than a few runs through the glass washer, while Don Quijote over there managed to squeeze out a two dollar tip on $40 worth of wine and barely acknowledge my presence. I would never grumble— at least out loud. Instead, I would just imagine what it would feel like to have just one Valentine's Day that did not end with a lonely frozen-dinner and movie, or with me finding some excuse to minimize what it's all about, or worse have to work behind the bar and watch others celebrate it. And let's not forget a phone call from mom, just to make sure I'm alright, that I'll find the right [Jewish] girl, "Soon enough."
Three years ago, I was single and talking about girls to my mother. This year, I am spending the day with my girlfriend, taking her out to dinner and having a wonderful evening of fun and laughter— and gifts, of course. I don't think you need to have a significant other to appreciate this holiday and what it's all about. Just open yourself up, you never know what's around the corner.
So guys— dress nicely, pick a trendy place, grab a rose (or a bouquet), look clean and presentable, smile a lot and maintain genuine eye contact with your companion. Girls— try not to judge too harshly, compliment on how your companion looks and what place is chosen. Most importantly, whatever you do for Valentine's Day— single, solo, group outing— have fun and enjoy it.
L'Chaim!