Permanent link
02/18/2015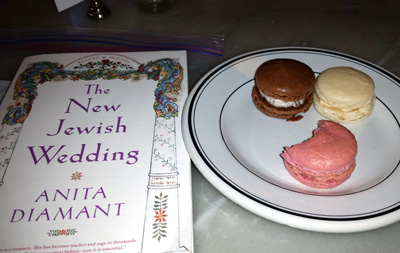 I lost the battle. I failed. I can't believe this happened to me, but last week, I let the Chicago weather win.
I have always been a proponent of eating ice cream in the winter and not staying inside like a hibernating bear for half of the year. "It's not too cold — you're just not wearing enough layers," I'll often quip.
So when I took a Tuesday off of work recently, I thought I'd show the world how it's done. I bought myself a pair of ice skates and figured I'd carry them around the town, showing off my clearly-I'm-an-amazing-ice-skater-if-I-own-my-own-skates bag, and skip the long skate rental lines at the new Maggie Daley ice rink. I'd go to a museum — or three! — since most of them happened to be free Tuesday anyway. I'd attend a free concert at the Chicago Cultural Center. I'd enjoy a macaron and a cup of chai tea while reading a book. I would show Ferris Bueller how to really spend a day off in Chicago.
I started my day with a make-your-own rice bowl lunch at Freshii downtown with two of my dearest friends, Alyssa and Sarah, and we had a great time.
But then, sadly, the weather got the best of me.
I walked to Maggie Daley Park, ice skates on my back, ready to show off my skating skills (I can skate forwards and backwards without falling). I arrived at the rink at 2:30 p.m. and saw on a sign stating that even though the ice rink was open from 12-8 p.m. that day, it was closed from 2:30-3:30 p.m. (and a few other hours throughout the day) for Zamboni cleaning. For an hour?
I was too cold and even a bit too tired to go to the nearby Art Institute, so I tried the Chicago Cultural Center. Nothing too interesting there (and their free concerts appear to be offered every day but Tuesdays).
So then I went to a cute little French bakery and treated myself to a few French macarons (raspberry, honey almond and brownie flavored) while reading my book.
At 3:30 p.m., when the Zamboni supposedly finished its cleaning session / joy ride, I ventured outside. And as much as I love Chicago, as much as I love ice skating, and as much as I wanted to show winter that it's not the boss of me — I just couldn't do it. My ears were cold, my fingers were cold, and I swear my bones were cold — so I gave up. I walked a few extra blocks in this cold to a bus and headed home.
I'm not proud of what happened. I wanted to show everyone how great Chicago really is, even in the middle of February, even in weather that matched my age (yup, it was 28 degrees all day), even when you're by yourself on a day off. But my warm, cozy apartment filled with hot chocolate, a fleece blanket, and 10 unwatched episodes of "New Girl" was calling for me and I answered the call.
Next time, Chicago winter, watch out — my ice skates and I are coming for you.
Until then, my ice skates and I might do some research on public skating times in indoor ice rinks.