Permanent link
02/15/2012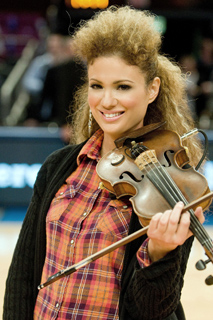 Before last week, I had never seen Miri Ben-Ari perform. But working at JUF, I sure had heard a lot about her.
Originally from Israel, the Jewish, Grammy-winning, hip-hop violinist has made a name for herself here over the last several years, and not just for her incredible musical ability.
Not only did I hear about how Ben-Ari has collaborated with some of the biggest names in hip-hop music, including Kanye West and Jay-Z, but I also learned about her philanthropy.
Several years ago, Ben-Ari founded the Gedenk Movement, a non-profit that raises awareness about the Holocaust, and uses it to teach more global lessons about anti-Semitism, bigotry and hate. The movement is aimed at educating youth about the horrors of such a dark time in history. The granddaughter of Holocaust survivors, Ben-Ari, like all of us, wants to make sure there will never be such a thing as a second Holocaust.
Anyway - that's what I knew about Miri Ben-Ari. So when I heard that she was going to be performing a benefit concert here in Chicago I was thrilled to be going to hear the amazing violinist perform live.
As it turns out, I was even luckier than I had previously thought. Right before the concert, Ben-Ari would be taping an interview for JUF's Sanctuary, so I asked my boss if I could attend the taping.
I ended up meeting Ben-Ari, and seeing the interview (which is scheduled to air at 1 p.m. on Feb. 26 on WLS/ABC 7). Although shy at first, Ben-Ari instantly transformed into a fierce activist when asked about her non-profit work. I'm sure you'll be impressed by how passionate this woman is about preserving the memories of the Holocaust and fighting anti-Semitism and hate.
(On a side note, I also became quite friendly with her manager Josue Sejour. I started things off on the right foot by asking if he was her bodyguard, because he was tall and looked strong. Oops. Luckily, the man had a sense of humor.)
After the interview, I caught the train to Lincoln Hall to watch Ben-Ari perform – and it was incredible. Her stage presence, combined with her amazing talent, was captivating. It was also beautiful to witness how the concert brought together so many people, old and young. I ended up having a wonderful time and can't wait to see her perform again.