Permanent link
12/22/2014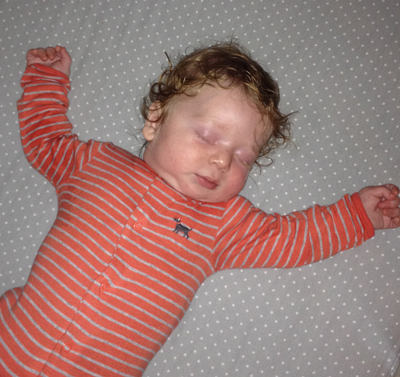 Our baby boy, Johnny, turned six months a few weeks ago, and a few days later our first resource from PJ Library arrived in the mail. I furiously tore open the package and was excited to find Dream with Me, a CD compilation of lullabies. Perfect, I thought, this will be great to play when we need to get the little one to sleep.  
From what I gather, Johnny's bedtime ritual is pretty typical: change diaper, wrestle to put on PJs, nurse on the couch while reading stories and singing lullabies before drifting off to sleep. There are always three lullabies that make the evening lineup: 
"You Are My Sunshine," the song Rose would sing to him while she was pregnant; "The Circle Game," the song her mother sang to her as a child; and "Lilah Tov," ("goodnight," in Hebrew) a song my wife made up to whisk him off to sleep.
Even as I write this post, I start to choke up, thinking about the beauty and innocence of this experience that at least one of us has shared with our son nearly every night of his life. Sometimes, I watch him really closely, hoping to catch the exact moment he drifts off to sleep. It is incredibly touching how he falls away so effortlessly and peacefully. This is one of those moments when the emotional side of parenthood comes up from deep inside of you and permeates the entire room. I once walked into the nursery to find my wife singing to him while he quietly lied in her arms. I sat down on the couch and gently put my hand on her knee and tears began streaming down both of our faces.
After we received the Dream with Me CD, I grabbed it on the way to the car that afternoon for a preview. With the baby securely buckled in the back seat, I thought to myself that this would be a good test. The first words of the first song were "Lilah Tov." In an instant, the sounds and sights of traffic all around me disappeared. For a split second, I was pulled out of the car and into the nursery at night, putting our baby to sleep. It wasn't long enough to completely distract me from the road, but just long enough to summon those familiar tears.
I have heard that there is a sociological and biological reaction to fatherhood that helps bring out a man's softer, more sensitive side and increases his commitment to the family. Consider this father a committed pile of mush.