Permanent link
12/16/2010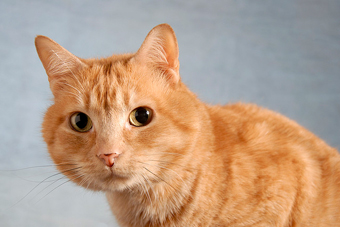 I'm obsessed with my cat, Morris. He's really the bee's knees. I don't know exactly when it turned from love to obsession, but it was some time between when I bought him a bowtie to wear on fancy occasions and when I got the tune "Here Comes Morris Clause" stuck in my head. But really I can't help it. Look at that little angel.
Being obsessed with a pet isn't something new for me. When I had a horse named L.L. Bean you could frequently hear me singing "I'm a little Bean pot short and stout, here is my saddle and here is my snout." And when I had a hamster, Penelope, I made calendars strictly dedicated to her, her cuteness, and my love for her cuteness.
So it was no surprise when this realization of obsession struck me on Saturday night. While at a party I kept being asked, "What's new?" And all that I found important to tell them was, "Well, I took pictures of my cat for my holiday cards." I think this is a great topic of discussion, but I kept getting blank stares and turned backs. Ugh. I can has social life? Appears not.