Permanent link
11/07/2012
I wrote the following eulogy and delivered it in honor of my beloved grandfather at his service on November 5th, 2:30 p.m.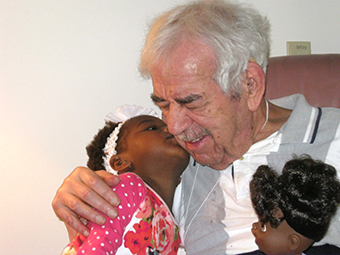 In Loving Memory of Isidore "Iz" Siegel 
May 20, 1918 – October 29, 2012
In my mind, I have imagined standing here many times. I imagined eulogizing my grandpa, my "pop-pop," honoring him, his life, and listing the innumerable people, places and things that were changed, influenced and impacted by him. My grandpa was in his 90s after all – and no one lives forever. But I was in shock the morning my mom called to tell me my grandpa had died. And while I was writing this (and now that I am actually standing here), I realized the practicing in my mind was my heart's attempt at bracing itself for a huge hole. Our family has lost a most loyal, loving and kind soul.
I have no idea how to summarize my pop-pop's life in a few minutes. How do I do justice to a brother, husband, father, grandfather, great-grandfather and friend? I really only know how to talk about what he meant to me, and how it felt to have him in my life. When I was a little girl, my grandpa would take me to the park. He'd wait at the bottom of the slide for me and scoop me up. He wore an aftershave that lingered on my clothes after he hugged me. That smell made me feel safe. So did sitting in my pop-pop's lap and squeezing his jowly cheeks while he pretended he was trying to eat my fingers. As a little girl, I remember mornings in Florida when I visited my grandparents. I'd sit across from my grandpa at the kitchen table, he'd be dressed in his bathrobe and slippers, me dressed in my PJ's, and we'd eat grapefruit halves sprinkled with sugar with special grapefruit spoons for breakfast. He had a hairbrush that always sat out on his bathroom counter that had very coarse brush bristles. I would sometimes run it through my hair and wonder if my grandpa liked the feeling of it as much as I did. And sometimes I used his shampoo that said something about making the silver in your hair even shinier. I pretended it would give me beautiful streaks of silver hair – just like my pop-pop's.
My grandpa didn't always know what to say in a moment, and he would fill the space with crazy faces and silly sounds. He'd make one eye big and the other one small and his eyebrows would go all crazy and he'd make a grumpy, squished up mouth. When I was a little girl it made me laugh. Fast forward 37 years, he had my little girl laughing at it too. My pop-pop loved talking to people and I noticed whenever he spoke to someone, he physically touched them – enveloped them. Most often, he would extend his hand to someone, who would take it anticipating a handshake. But my grandpa would always initially go to shake but then hold the persons hand, take his other hand and place it over the handshake, securing it. He turned a social formality into a genuine connection. His hands were soft and warm and he was always looking into your eyes when he greeted you. I can remember observing this about him as a little girl. I didn't know the word for "finesse" back then, but I remember thinking my grandpa was very brave to touch so many people, pulling them in close and really looking at them. Later, I defined my grandpa a gentleman, a charmer, a mensch.
Over the past several years, my grandpa was bravely battling Parkinson's. It took away a lot of things from my grandfather. It was very difficult to watch his mind be robbed of things as time went on. Sometimes he didn't even know who I was. But when I reminded him, he'd nod slowly and smile. And my pop-pop would come back to me. My grandfather always prided himself in his ability to take care of his family. Then there came a time where he was unable to care for himself. This distressed him deeply. But as time went on, he began to acknowledge he needed help, and slowly, he opened himself up to the people who loved him to help him and care for him at the most vulnerable time in his life. He gave us a gift really. He gave us the opportunity to finally give back to him. The gift of giving back to a brother, a husband, a father, a grandfather, a great grandfather and a friend – a man who spent his entire lifetime giving to others. My grandpa gave his heart and his soul to his family. He lived for us. 
Life is very complicated. But loving my Grandpa was very, very simple.